How to recover deleted data from Samsung Galaxy S3
Published on April 15 2013
"Recently, I got a Samasung Galaxy S3. So anyways, is there a way to recover lost videos? I have been Google'ing around and I know there are solutions out there, using recovery programs and such. Essentially I took a video, it went to my gallery, then I deleted it on accident"
"I accidentally deleted an entire album of pics from the photo gallery thinking I was deleting a single picture and now have nothing. Is there any program that will help to recover the lost photos or something else I can do or am I out of luck?"
Samsung Galaxy S3's 4.8 inches HD Super AMOLED display with a high resolution of 1280 x 720 makes it possible to play video in true and perfect color with ultrafast response time. With S3's 8MP rear camera, you can not only capture good still photos, but also 1080p perfect quality HD videos.
It is rather dismay when you deleted your videos or photos by accident, but don't worry, there are methods for you to recover deleted videos or photos from Samsung Galaxy S3 using a data recovery software.
As far as I know, there is one application named Dr.Fone for Android which is a powerful Samsung Galaxy S3 photo recovery software allows you to recover contacts, messages, photos and video from Samsung Galaxy devices, like Samsung Galaxy S4/S3/S2/S, Samsung Galaxy Note and Samsung tablet etc.
Below are the detailed steps for you to recover deleted data from Samsung Galaxy S3
Step 1. Connect your Samsung Galaxy S3 to the computer
Connect your Samsung Galaxy to the computer with a USB cable. Then run the program and you'll get the main interface below.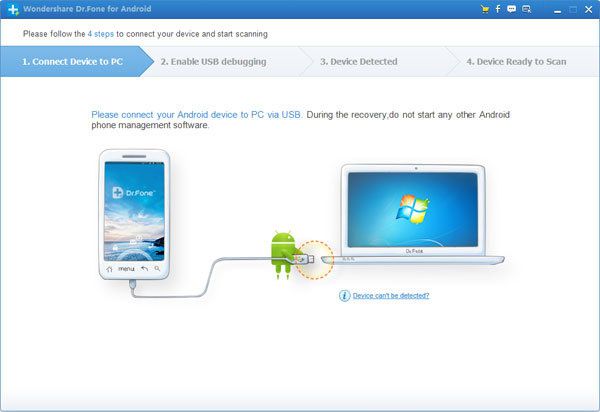 Step 2: Enable USB debugging before scanning your phone
If you didn't enable USB debugging on your device, you'll see the window below. Follow the detailed expression in the window to set it now.
Note: If you have enabled USB debugging on your device before, you can skip this step.
1) For Android 2.3 or earlier: Enter "Settings" < Click "Applications" <<strong> Click"Development" < Check "USB debugging" 2) For Android 3.0 to 4.1: Enter "Settings" < Click "Developer options" < Check"USB debugging" 3) For Android 4.2 or newer: Enter "Settings" < Click "About Phone"trong> < Tap"Build number" for several times until getting a note "You are under developer mode" < Back to "Settings" < Click "Developer options" < Check "USB debugging"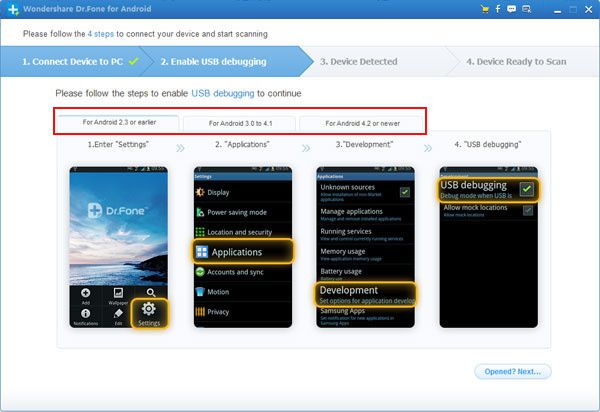 Note: If you still get this window and the USB debugging has been enabled, please try to disable it and reset it again.
Step 3. Scan your Samsung Galaxy S3
When your device is connected and detected by the program, click "Start"button in the screen below to start analyzing it.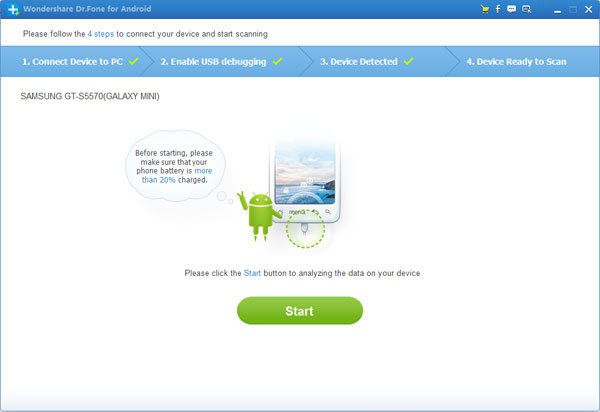 Note: Before doing this, make sure that your phone battery is more than 20% charged, so that you can get a smooth scan
If your device is not rooted before, the program will directly scan it after the analysis.
If you rooted your device before, you need to allow the program Superuser authorization on the screen of your device. Just click "Allow" when the message pops out on your device's home screen. Then back to your computer, and click "Start" on the program's screen to scan your device.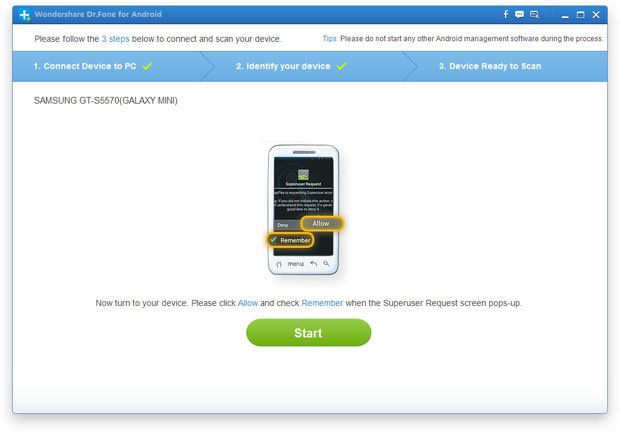 Note: For some devices, they may ask you to click "Allow" more than one time on your device's homescreen. It's normal. Just do it if it askes. It doesn't matter. Just click it until it doesn't appear again or the program has begun its real scan.
Do not disconnect your device during the scan, or the scan will fail.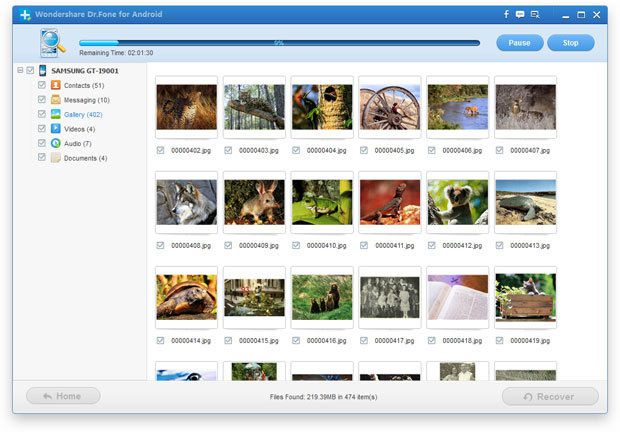 Step 4: Preview and recover data from Samsung Galaxy S3
The scan will take you some time. When messages and contacts are scanned out, it will remind you. And you can stop the scan to get them back if you only want to recover deleted messages and contacts. For photos and video, it will take you more time to scan out all of them.
After the scan, you can check details of all the found data one by one. Mark those you want and click "Recover" to save them on your computer.