How to Recover Deleted Contacts from SIM Card - Today sale of mobile phones is increasing day by day. Mobile phones have become a vital part in our life. In the market there are various types of mobile phone such as single SIM, dual SIM and triple SIM. SIM (subscriber identity module) card allows the phone using the card to attach to a mobile network.
We also save our important contacts in the SIM card. Initially mobile phones only were being used for phone calls and SMS. But nowadays with the help of Smartphone's we can use it for multiple purposes with its advance features.
We can get in touch with our friends and family through social media and with the help of internet connection used in mobile phones. A SIM card is a small card in mobile phones that contains a mobile network subscriber's account information and also save our important data.
In the mobile phone market there are two types of mobile phones, GSM and CDMA. GSM based mobile phones have SIM card but CDMA based phones typically do not have SIM cards and instead rely on an ESN or MEID. However, as far as I'm concerned, many mobile phone users feel unhappy when all of their SIM contacts have been deleted or lost. Is there any solution to recover all your deleted contacts? Yes, you can recover all deleted contacts from mobile or SIM card in Android phones. There is software Android Data Recovery, with the help of this software you can restore all deleted contacts in your mobile phone.
Step by step to recover deleted contacts from Android SIM Card
Step 1: Connect your Android phone to the computer
Download, install and run Dr.Fone for Android on your computer, you will see the following interface.Then, connect your Android device to computer with a USB cable.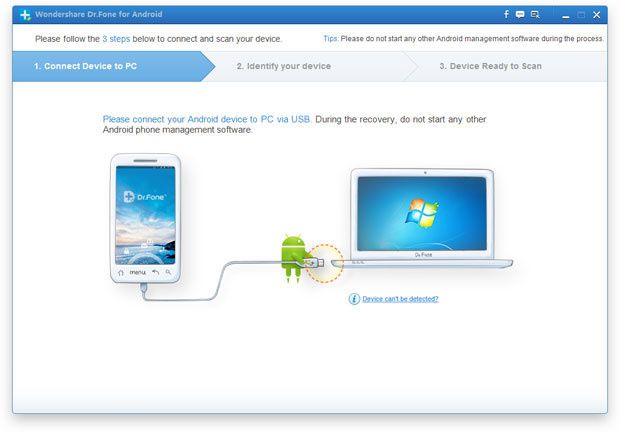 Step 2: Enable USB debugging before scanning your Android device
If you didn't enable USB debugging on your device, you'll see the window below. Check what Android OS is your Android device and then follow the instructions below to set it now
Note: If you have enabled USB debugging on your device before, you can skip this step.
1) For Android 2.3 or earlier: Enter "Settings" < Click "Applications" <<strong> Click"Development"< Check "USB debugging" 2) For Android 3.0 to 4.1: Enter "Settings" < Click "Developer options" < Check"USB debugging" 3) For Android 4.2 or newer: Enter "Settings" < Click "About Phone"trong> < Tap"Build number"for several times until getting a note "You are under developer mode" < Back to "Settings" < Click "Developer options" < Check "USB debugging"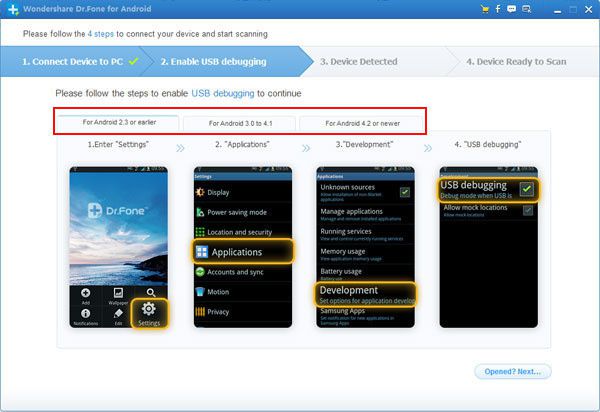 Note: If you still get this window and the USB debugging has been enabled, please try to disable it and reset it again.
Step 3. Scan your Android device for deleted contacts
After your Android device is connected and detected by the program, click "Start" to start analyzing your device.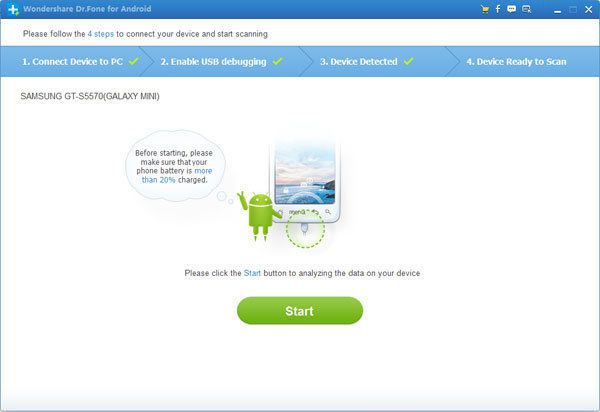 Note: Before doing this, make sure that your phone battery is more than 20% charged, so that you can get a smooth scan
If your device is not rooted before, the program will directly scan it after the analysis.
Note: For the device that Wondershare Dr.Fone for Android doesn't support currently, it may lead you to set USB Mass Storage on your device to scan photos, videos, music and documents, or to root your device by yourself (if there is no USB Mass Storage option). All rooted Android devices are supported well. You can choose to do it or not by yourself.
If you rooted your device before, you need to allow the program Superuser authorization on the screen of your device. Just click "Allow" when the message pops out on your device's home screen. Then back to your computer, and click "Start" on the program's screen to scan your device.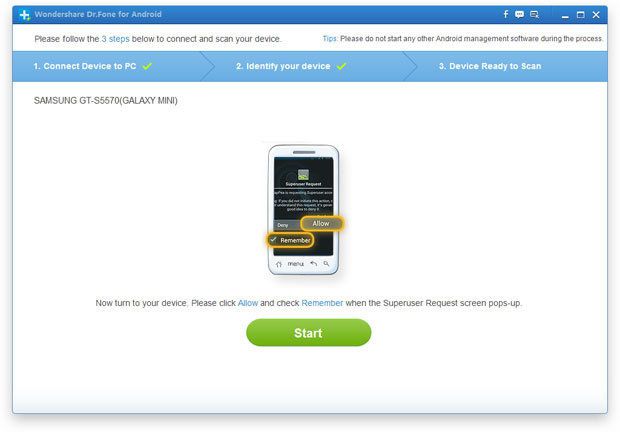 Note: For some devices, they may ask you to click "Allow" more than one time on your device's homescreen. It's normal. Just do it if it askes. It doesn't matter. Just click it until it doesn't appear again or the program has begun its real scan.
Do not disconnect your device during the scan, or the scan will fail.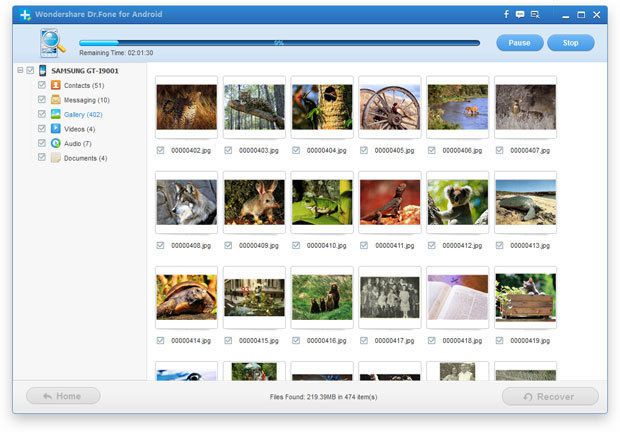 Step 4: Preview and recover deleted contacts from Android SIM Card
After all contacts and messages have been scanned out, the program will remind you stop the scan, because it is a waste of time to scan all data. Then you can preview all contacts one by one in the scan result, mark those you want and click "Recover" to selectively save them on your computer.