iPhone 5SE or iPhone SE? Apple's 4in iPhone WILL Launch March 21
Published on March 12 2016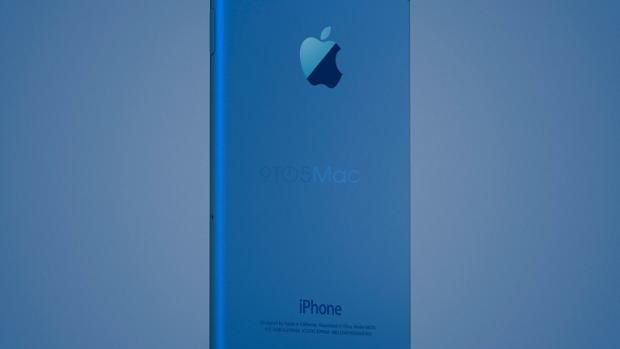 Apple's 4in iPhone 5se will arrive in March 2016 ahead of the iPhone 7 launch, sources claim
Apple has now offically begun issuing invitations to its previously rumoured March 21 event, as usual the invite is quite a colourful yet minimalist affair that hints at what's to come with a slogan; "Let us loop you in." Which frankly could mean anything; it could be referencing the Apple Watch band, or an expansion of Apple Pay, or some new kind of connectivity feature. But then, Apple's hosting a brand new event in March, completely out of step with the norm, so all bets are off - anything could happen.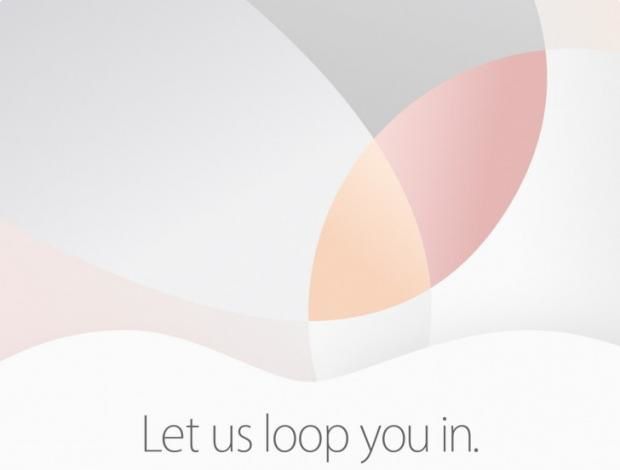 It's expected that as per previous rumours this event will see the unveiling of the iPhone 5se with a metal build and iPhone 6-style design, but in the 4in, classic iPhone 5 size format. Some sources, however, suggest it may simply be branded as the iPhone SE. As well as this there are multiple rumours suggesting an updated Apple Watch, and at the very least one new 9.7in iPad, either an iPad Air 3 or a 9.7in iPad Pro, or possibly both, if we're very lucky.
"Rumors suggest an iPhone 5s-style body with an iPhone 6-style curved glass front panel, two concepts that are difficult to merge," said 9to5Mac. "Spigen is an accessory company that often has some of the first cases available for new iOS devices, and the iPhone SE is no exception. The company is working on cases for the 4-inch iPhone, and case renderings obtained by MacRumors suggest Spigen expects a design that's nearly indistinguishable from the iPhone 5s."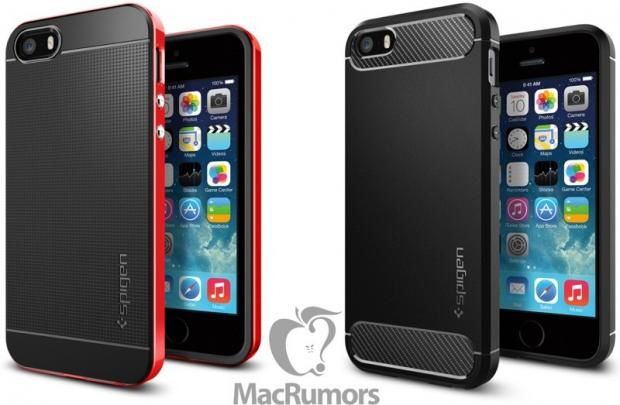 It might seem a bit odd to be making such a fuss of a 4in iPhone, after all, it wasn't that long ago that it was the norm, we've only had two generations of 4.7in and 5.5in iPhone and iPhone Plus designs with the iPhone 6, iPhone 6 Plus, iPhone 6s and iPhone 6s Plus. Prior to that it was 4in on the iPhone 5, iPhone 5c, and iPhone 5s, and even earlier we used to have 3.5in screens on the iPhone 4s and all those that came before. Small-screen iPhones are not new.
It seems that Apple is trying to cater to the old school fans though. Many Apple fans said that Steve Jobs was right, that 4in is big enough, and that they wouldn't be happy with a bigger screen. However, this largely this hasn't proven true - users seem quite content to carry on buying iPhones in huge numbers even as the display expands.
But what may have influenced Apple's decision to revive the 4in style, is that while Apple's faithful has not rejected larger displays, they have shown they still prefer the smaller option where possible. Steve Jobs always maintained that Apple users didn't like "big" phones, that 4in was the Goldilocks size for a mobile phone and anything bigger was, well, stupid. Sales figures would appear to support this assertion, as the smaller iPhone 6/iPhone 6s outsells its larger counterpart by quite a margin.
The standard iPhone 6s has outsold the iPhone 6S Plus by a huge margin, uSwitch Tech data reveals. "Sales data from the launch of the iPhone 6 show that the standard 4.7-inch model has sold more than seven times as many units as the iPhone 6s Plus on uSwitch. And while we wouldn't claim to represent the whole market," said the report. "As a mainstream technology site it's fair to assume our data offers a pretty accurate representation of smartphone sales across the UK."
This is obviously why Apple is hedging its bets. It knows the iPhone 6 is popular and it knows the iPhone 6 Plus model converts Android users. The inclusion of another, 4in model — the iPhone 5se — basically takes care of the rest; those not ready or willing to move onto large-screened phones. Viewed in this respect, the addition of the iPhone 5se to Apple's 2016 iPhone arsenal does make quite a bit of sense.
One of the only criticisms levelled at Apple in recent times is that it is too reliant on the iPhone; Tim Cook even chaired a town meeting about this very subject in early February. Still, if this is the only bad news analysts can level at you as a business then you're likely doing something right. It is also the reason why Apple is likely expanding its portfolio of phones — strike while the iron's hot and all that.
Apple's revenue figures are becoming increasingly dependent on the iPhone's commercial success," reports The Street. "iPhone sales accounted for an astounding 62.54% of Apple's total revenue in the fourth quarter of 2015. The iPhone 6s range enjoyed record-breaking sales during the launch period. In fact, in fiscal 2015, Apple moved 37% more iPhones than in fiscal 2014. However, in an increasingly competitive smartphone market, such dependency could end up being a curse."
Plus, to be fair to Apple, it has released a bunch of new gear in the last 18 months, including the iPad Pro, Apple Watch and a brand new Apple TV, as well as all of the company's software launches, most notably Apple Music. Still: 2016 will be dominated by the iPhone 7 and Apples' smaller, 4in iPhone.
HOWEVER -- Apple is said to be prepping a fourth - up to now, unknown - premium handset that will launch alongside the iPhone 7 and iPhone 7 Plus. Dubbed, "the iPhone 7 Pro", the handset is expected to feature a vastly superior, dual-camera setup and, no doubt, a much bigger price tag. The Pro name also denotes Apple Pencil support, though not much has been said about this aspect.
"KGI Securities analyst Ming-Chi Kuo has issued a research note that predicts two 5.5-inch versions of the "iPhone 7 Plus" are in development, one with a single iSight rear-facing camera and another boasting a dual-camera design," said MacRumors. "The rumored iPhone 7 Plus model with a dual-lens camera system would take advantage of imaging algorithms that Apple acquired through its purchase of Israeli camera technology company LinX Imaging last year."
If you see reports doing the rounds of the iPhone 5se being unboxed then be warned - it's a fake! Multiple publications reported the photo image, which shows a 4in handset inside a box branded "iPhone 5se", and for a moment it did look pretty convincing.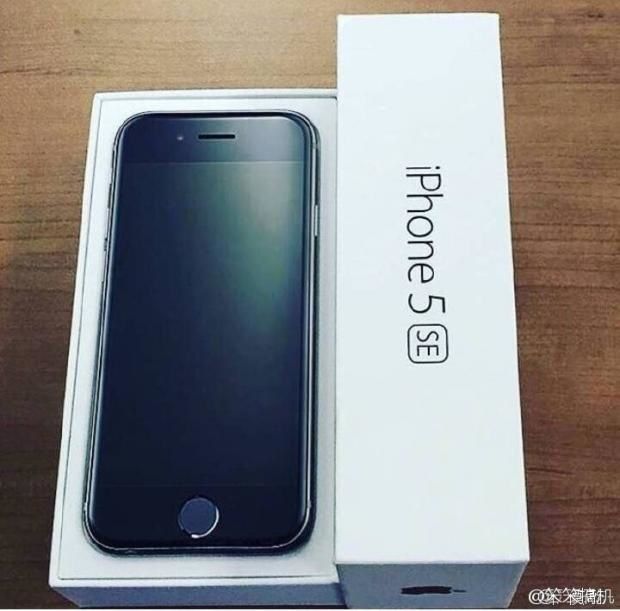 However, prominent Twitter tipster Steve Hemmerstoffer has intercepted the leak and hinted that it's a doctored iPhone 5 box with, presumably, some kind of mocked-up iPhone 5 unit inside.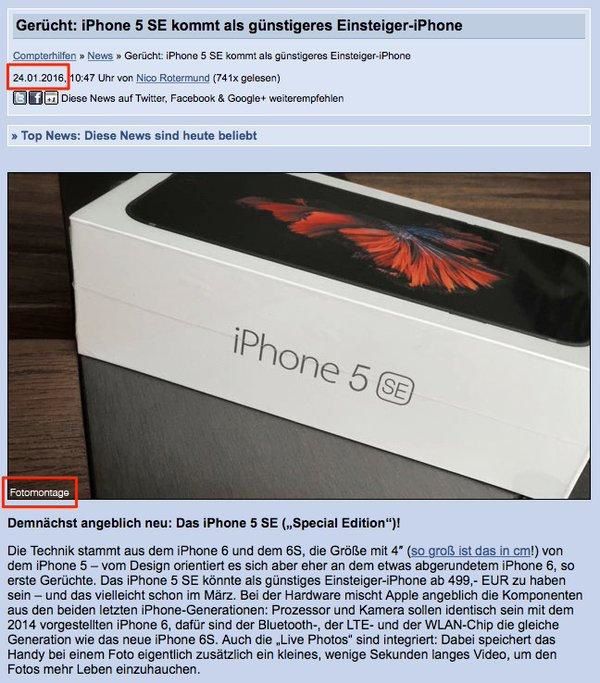 Don't call it the "5" anymore
The biggest news lately about the 4-inch iPhone 5se is that Apple has apparently dropped the "5" from the name. The 4-inch iPhone, which is now rumored to be unveiled at a March 21st event will simply be called the "iPhone SE". Personally, we like the same. It's cleaner; less of a mouthful. 9to5Mac was the first to break the news:
"Based on Apple reinvigorating the 4-inch iPhone screen size at a time where the market is mostly moving toward larger smartphone screens, it would make sense for Apple to position this device as simply the 'SE,'" the site reported. "Sources say that the dropping of the '5' from the name also simplifies the iPhone lineup as bringing back an iPhone '5' variant amid the iPhone '6' lifecycle could potentially confuse customers. The iPhone SE will replace the existing iPhone 5s and will take its price points."
The iPhone SE will cost between $400-500 USD
As MacRumors notes, KGI Securities analyst Ming-Chi Kuo believes " the smartphone will cost between $400 and $500 in the United States. The lower price point should help Apple target the mid- to low-price segment and drive iPhone sales in emerging markets such as China and India. Comparatively, the larger iPhone 6s starts at $649."
The iPhone SE will also get a 12MP camera
This one comes as a bit of a surprise. KGI Securities analyst Ming-Chi now claims that the iPhone SE will feature a 12MP rear camera instead of the originally rumored 8MP rear camera. This would put it inline with Apple's camera offerings on its flagship iPhone 6s.
The iPhone SE WON'T have a 3D Touch Display
Fans hoping for a shrunken iPhone 6s will be a bit dissapointed by this news: Mac site Nowhereelse.fr has published images depicting a screen assembly of the upcoming 4-inch iPhone. The leaked images come from a source "several occasions in the past proved to be reliable", the site says and the images seems to show that 3D Touch components are absent from the 4-inch iPhone display.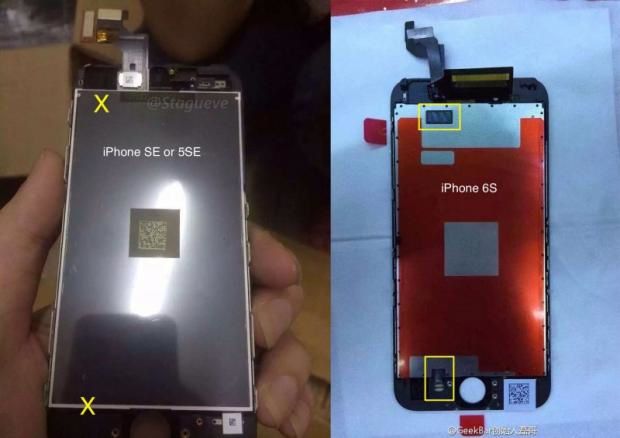 Who is ACTUALLY Going To Buy This 4in iPhone?
This is a good question. Apple likely knows something we don't about its customers wants and needs. Perhaps it's been conducting surveys in its retail stores around the globe, asking shoppers what their ideal iPhone size was. It's possible. A company like Apple never enters a market without first establishing demand, likely sales and projected revenues.
If Apple is releasing a 4in iPhone, the case for this being the case is getting stronger with each new week, then it must be confident that A LOT of people out there are craving smaller, 4in iPhones. But as Mr. David Brent said: Never assume, it just makes an ass out of u and me…. What's needed is data. Hard data.
Fortunately, US analyst firm Piper Jaffray has done just this. The firm polled 1,077 U.S. consumers to find out their preferred screen size. Of those surveyed. 20.3 percent said they prefer a 4-inch handset, which is the size of Apple's current iPhone 5s. Scaled up, that's quite a chunk of the phone-buying market. Anecdotally, I know a bunch of people dying for the return of a 4in iPhone.
Whether Apple can shift the iPhone 5se in numbers upwards of 20 million, as it did with the iPhone 5c, remains to be seen… surely most people will wait until September for the iPhone 7 and iPhone 7 Plus? Surely!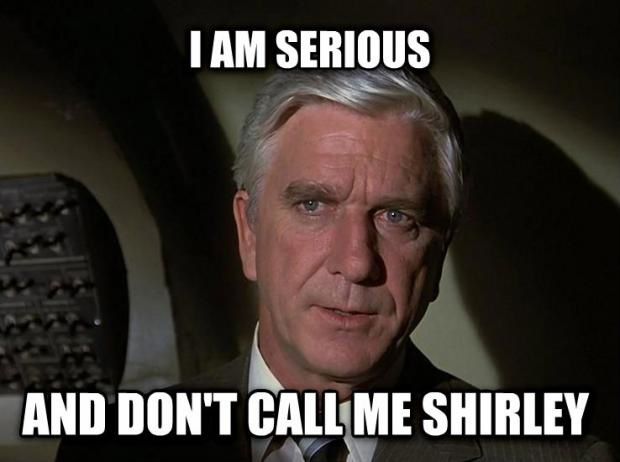 There are two alleged launch dates for the iPhone 5se (or is it the iPhone 6c!?): April/March 2016, so, just around the corner, or September, which is a bit further away and also Apple's usual date for launching new iPhones. However, it is looking more and more likely that Apple will announce the iPhone 5se at its apparent March event, alongside the Apple Watch 2 and iPad Air 3. Multiple sources now claim THIS event is the one we'll see the return of the 4in iPhone at — and that makes sense too. Apple wouldn't want the iPhone 5se spoiling its iPhone 7 reveal.
However, it is looking more and more likely that Apple will announce the iPhone 5se at its apparent March event, alongside the Apple Watch 2 and iPad Air 3. Multiple sources now claim THIS event is the one we'll see the return of the 4in iPhone at — and that makes sense too. Apple wouldn't want the iPhone 5se spoiling its iPhone 7 reveal.
There are, as of February 26, a couple of conflicting reports regarding the iPhone 5se launch date. On the one hand, a report from 9To5Mac, and often reliable source, says that Apple's launch event will take place on March 15, when we'll also see a new 9.7in iPad Pro unveiled; although whether this is instead of or as well as the rumoured iPad Air 3 is unknown. The conflicting report comes via Korean publication Underkg.kr, which claims that Apple's event has been pushed back by a week until March 22. With everything under wraps officially at this point it's impossible to say what's true, but it is all pointing to mid-to-late March at any rate. There's also no indication on what exactly might have caused the delay if it is true.
iPhone 5se Release Date
Word of Apple's BIG Q1 reveal first surfaced last month and since then things have developed pretty quickly with talk of a new Apple Watch, a new iPad Air and a reboot of the iPhone 5c, apparently called the iPhone 5se, appearing at the event.
And this is pretty significant. Apple doesn't usually do stuff like this, like, ever. 9to5Mac got the initial scoop way back when and had this to say earlier this week:
"Apple is currently aiming to unveil the new 4-inch the iPhone 5se, the iPad Air 3, and new Apple Watch band options at an event on Tuesday, March 15th, according to sources. We previously reported that Apple was on track to launch the new products during the week of March 14th. As the scheduled event is still a month-and-a-half away, the date could conceivably still shift or turn into an online announcement. The media event would be Apple's first since September, and much like the fall event, is planned to touch on three major product categories for the company."
Word on the street — well, The Independent — suggests Apple's iPhone 5se and iPad Air 3 will get a release date very soon after the company's March 18 event. The report does not specify the source of the information, however, thought much has already been said about "The March Event" — mostly by 9to5Mac.
"That puts the release of the small phone just three days after its expected launch date, at an Apple event on 15 March," said the report. "Apple usually waits a week or more before actually putting its phones on sale, but appears to be breaking with tradition to launch the new devices almost instantly."
And 4in iPhones are still VERY popular, too.
19% of all iPhone owners are still holding on to their beloved iPhone 5s, says a new report from Mixpanel, while the iPhone 5 accounts for 8% and the iPhone 5c and iPhone 4s are 5.4% and 4.2%, respectively, of all active iPhones currently in use.
From now on, for the sake of brevity, we will be referring to the smaller, 4in iPhone as the iPhone 5se, as this is likely what it will be called when it eventually launches.
New iPhone 5se Design: Looking Like A Cross Between The iPhone 5s and iPhone 6
9To5Mac has unearthed some new diagrams of the iPhone 5se, the schematics come via a third-party case and accessories maker, so as well as showing what the phone will look like it's also a good indication that the April/March launch bracket is probably on-point; phone makers usually send designs out to case makers relatively close to launch.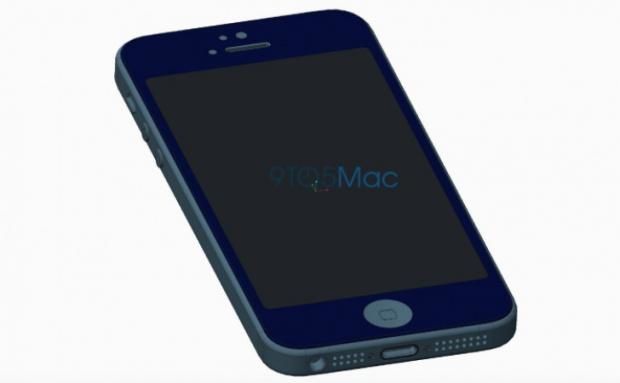 Broadly the 4in iPhone 5se looks very similar to the iPhone 5 and iPhone 5S, as expected, however, the power key has been relocated - it's now on the upper right edge mirroring the volume keys on the other side. On top of this the bodywork between the flat portion of the metal surround and the display has been contoured in a similar way to the iPhone 6, showing this is a new-gen device after all.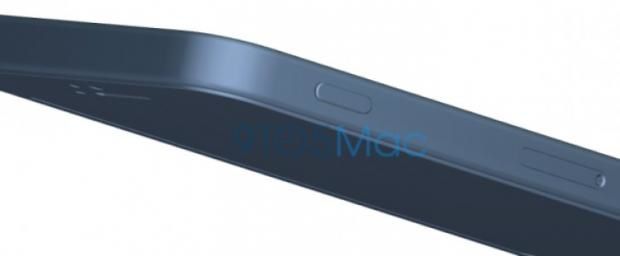 iPhone 5se Specs & Hardware
"The new device is internally codenamed 'N69,'" reports 9to5Mac, "but the launch name will likely be the "iPhone 5se." The "se" suffix has been described in two ways by Apple employees: as a "special edition" variation of the vintage 4-inch iPhone screen size and as an "enhanced" version of the iPhone 5s. Indeed, the upcoming "5se" features a design similar to 2013's flagship but upgraded internals, software, and hardware features that blend the old design with modern technologies from the past two iPhone upgrades."
The iPhone 5se will look like a cross between an iPhone 5 and an iPhone 6, according to reports, and it'll be available in the same colour scheme as the current iPhone 6s: Rose Gold, Space Gray and silver. The iPhone 5se will also feature a bunch of the iPhone 6/iPhone 6s' components, as well as a more rounded design which makes it sound a lot closer to the iPhone 6 than the iPhone 5s.
"The company is also expected to release new Apple Watch accessories, including new straps, and updates to the operating system at the event," reports The Independent. "But it won't see a full redesign of the Watch itself, which is thought to be coming in September — probably at the same time as the iPhone 7 is released."
Sources have provided the following list of "iPhone 5se" upgrades over the 5s:
The chamfered, shiny edges have been replaced with curved glass like on the iPhone 6 and 6s lines
The same 8 megapixel rear camera and 1.2 megapixel front camera systems from the iPhone 6
Support for larger panoramas and autofocus for video recording
Barometer for tracking elevation in the Health app
An NFC chip for Apple Pay
The A8 and M8 chips from the iPhone 6
Bluetooth 4.2, VoLTE, and 802.11ac WiFi chips from the iPhone 6s
Live Photos from the iPhone 6s
Same Silver, Space Gray, Gold, & Rose Gold color options as the 6s line.
"The new 4-inch iPhone will have other similar hardware specs as the iPhone 6s, including an A9 chip and NFC for Apple Pay. The device's form factor is expected to be similar to the iPhone 5s, although the display is said to have slightly curved 2.5D glass like the iPhone 6 and newer," reports Mac Rumors.
"Apple's new 4-inch iPhone could also feature 16GB and 64GB storage capacities, 802.11ac Wi-Fi, Bluetooth 4.2, Live Photos support, and a slightly larger 1,642 mAh battery compared to the iPhone 5s. 3D Touch will likely remain exclusive to the iPhone 6s and iPhone 6s Plus as a differentiating feature," the report added.
The iPhone 5se is expected to retail for $400 to $500.
First iPhone 6c/iPhone 5se Photos Surface - Confirms TouchID Home Key
The first live photos of the iPhone 6c or iPhone 5se have emerged online, and brace yourself because you might be taken aback by how underwhelming it is! You see, the photo shows the new model side-by-side with an iPhone 5 and the differences are subtle enough that you've gotta be paying attention to spot them - otherwise it basically just looks like a pair of iPhone 5 phones.
Additional reports -- via 9to5Mac -- claim the iPhone 5se will look so similar to the iPhone 5s that it will actually fit inside cases made for the 2013 flagship phone.
"It's said that the iPhone 5SE will fit into cases made for the iPhone 5S, though the power button will relocate to the right hand side the device and the edges of the glass panel will be slightly curved," reports the Inde. "While the iPhone 5SE will resemble the iPhone 5S physically, it's said that it will get a bump in specs that brings it in line with the iPhone 6S."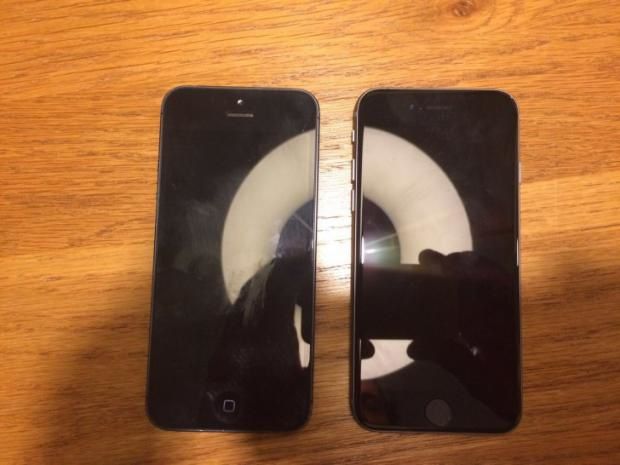 The photo, which comes via Dutch Apple site onemorething.nl, shows an iPhone 5 on the left, and the new 4in model on the right. At first glance it does just look like the same phone, but we can just about discern is slightly smaller, and a bit wider - it's hard to be sure from this angle but it may be a bit thinner too. You can also see the controls are in a different location, with the right-hand model exhibiting the recent iPhone 6 series control layout, and the same goes for the front-facing camera position. If you look at the power key you'll also see a design that appears to be the TouchID Home key with an integrated fingerprint scanner, while the iPhone 5 has the old Home key with a square motif.
iPhone 5se Renders Emerge
There have also been a bunch of colourful mock-ups published online by China Mobile that aim to show how the iPhone 5se will fit in with Apple's upcoming iPhone 7 and iPhone 7 Plus lineup. Once again, colour and price will be the driving factor behind iPhone 5se adoption — and no, we do not believe it will be called the iPhone 7c. This is a reboot to 2013's iPhone 5c, so the 5se makes perfect sense. Even more so when you consider the handset is based on the iPhone 6's design just with iPhone 5s specs and hardware inside it.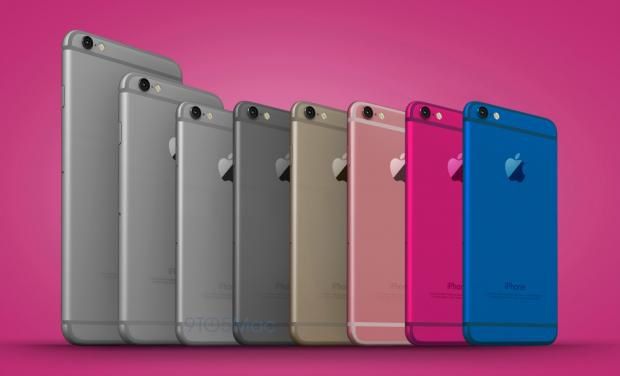 Why The iPhone 5se Matters
Apple reportedly sold in excess of 20 million iPhone 5c units which is a HUGE amount of sales for a handset that many labelled a failure. HTC, Sony, LG and Samsung would all love sales that large for their respective, non-flagship handsets and for this reason we do have to take the iPhone Xc series seriously.
Consumers loved the iPhone 5c, you see the handsets everywhere — just look around you next time you're out. The idea of Apple releasing three handsets in 2016 might sound odd to many, but the reality is much simpler: Apple is a business and it will do all it can to dominate the mobile space.
The reintroduction of a more affordable iPhone, but, importantly, one that costs more than this year's models next year, alongside two new handsets would generate a lot of additional revenue for the company — particularly if the iPhone 7c is based on the iPhone 5s, as sources suggest.
Why? Simple: Apple can sell old technology at modern prices and that, dear readers, is excellent business if you can get away with it!
Article Source: iPhone 5SE or iPhone SE? Apple's 4in iPhone WILL Launch March 21