ZTE launches Axon Max in effort to boost market reach
Published on December 31 2015
Chinese smartphone maker ZTE has been offering variants to its flagship Axon handsets in a way to expand its market coverage.
Chinese equipment manufacturer and smartphone maker, ZTE, launched Axon Max in China in late December -- a sibling of its flagship Axon model featuring a 6.0-inch screen -- in a move to reach a broader market.
The phone features a 6-inch 1080p display and a 4,140mAh battery, offering the largest screen among the ZTE's Axon family. It also packs with an octa-core Qualcomm Snapdragon 617 processor, 13 and 16 megapixel front and rear cameras, 3GB RAM, 32GB storage, and runs Android 5.1.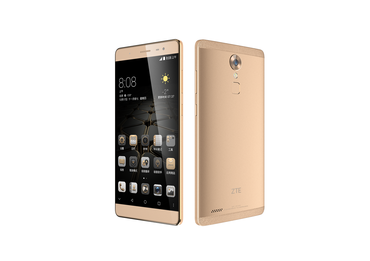 Axon Max was firstly officially launched on Chinese e-commerce website JD.com with a pricetag of 2,799 yuan (US$432). The Chinese company in July launched its flagship Axonmodel, and then offered a smaller-sized Axon Mini in October at more competitive prices.
Waiman Lam, senior director of technology and partnerships from ZTE Mobile Devices, said the company launched three different kinds of Axon phones in a row in a bid to serve different demands of different consumer groups.
LATEST NEWS ON ASIA
The rollout of Axon series was done after extensive surveys and research conducted with consumers in the Chinese and US markets, Lam claims. The handsets have been receiving very favorable response from the consumers, with 97 percent positive feedbacks on China's JD.com and an overall of four and a half consumer reviews on US's Amazon.
But Lam didn't disclose the sales data of Axon phones despite the first Axon model has hit the market for over more than five months.
Earlier reports indicated ZTE has set a 60 million shipment target for 2015, a 25 percent lift from its actual shipment of 48 million devices in 2014. The company shipped a total of 26 million smartphones worldwide in the first six months of 2015 according to its mobile device head, but the number didn't include Axon phones as they were launched in the second half in 2015.
ZTE has pinned high expectations on Axon phones as the company lagged behind major competitors in the populated Chinese market.
A TrendForce report in October showed the top five smartphone brands in China during the third quarter of 2015 were Huawei, Xiaomi, Lenovo, TCL and Oppo, which together shipped 63.2 percent of total 149.5 million handsets in the Chinese market during the quarter.
ZTE has been stepping up promotion activities in the country, according to Lam, with the company planning to double its marketing expenditure on smartphone segment worldwide each year for the next three years.
Lam added that ZTE remains the fourth largest smartphone maker in the US in terms of shipment.
Article Source: ZTE launches Axon Max in effort to boost market reach