Wondershare MobileGo for Android: Manager and Transfer Android on Computer
Published on March 14 2014
What is MobileGo for Android?
Android phones are relatively easy to manage compared with iPhone. There is no need to download iTunes on your computer. Each android device has an exclusive manager tool. If you would like a third tool that is compatible with every android system, you can try this one-Wondershare MobileGo for Android, which lets you transfer music, photos, videos, contacts, sms from devices to pc. Furthermore, it can backup and restore your android data and files. It seems like Samsung, but it is not only designed for Samsung users. All android users could benefit from it.
Connection & Installing
For getting a good knowledge of this software, you need to test it first. You can download for free. It is a desktop tool, being used in your computer. There are two options of scanning the QR code when you connect android device with computer, one is via WiFi, the other is Using USB cable. Here is the primary window after launching it. Each function is listed clearly.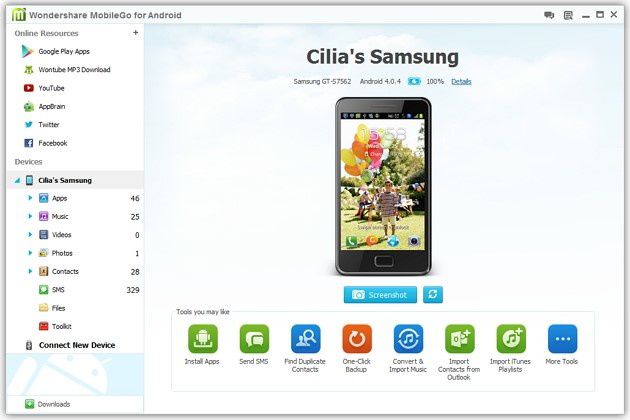 App organization
App organization is one of its important features. You can search some apps in Google Play Apps from Online resource, then download directly on your android device. You can also share apps with your friends via Facebook, Twitter or SMS.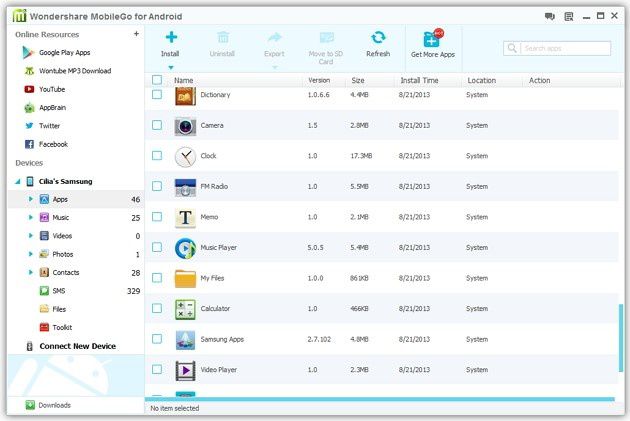 Contact & SMS management
Transferring contacts and SMS becomes no more difficult with the help of MobileGo. You can import contacts from computer, Outlook, Windows Address Book and more to the Android phones easily and the other way around. It even helps to merge the duplicate contacts. So does importing SMS to your computer! SMS format can be XML or TXT. It makes sending SMS directly from PC possible. There is a drawback that only the exported XML file can be imported to Android phone with this program.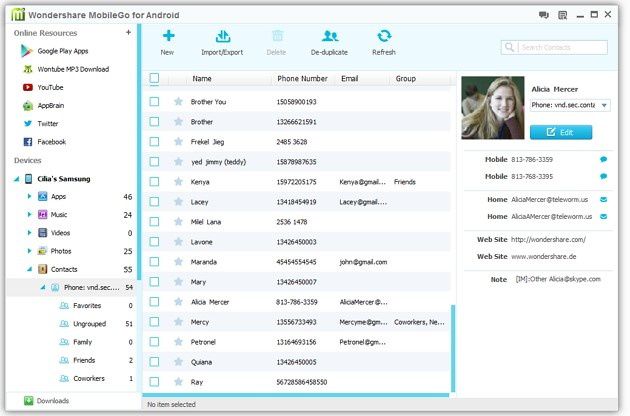 Music/video/photo management
With the help of this program, you can drag music songs, videos, and photos on your android device to the computer directly. Also, you can transfer data from your computer to your android phones easily.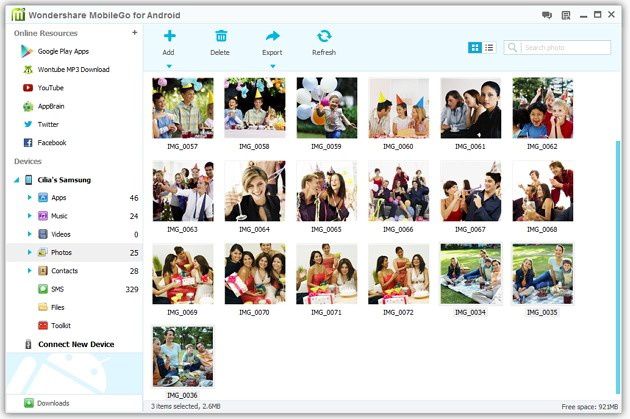 Phone memory & SD card browse and management
When you click the File tab in the left sidebar. All files and folders on both Android phone memory card and SD card are there. The phone memory mainly can be previewed. But you can import documents to SD card easily.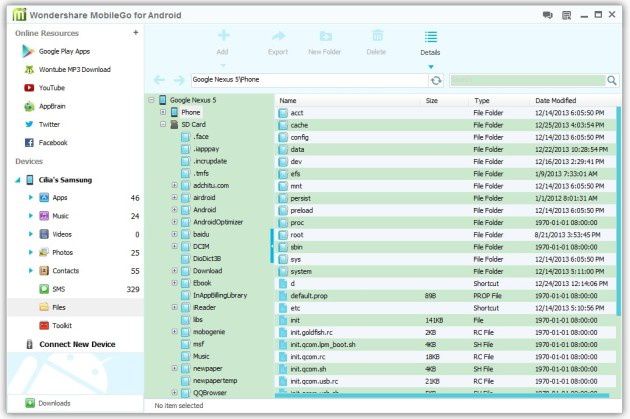 Toolkit feature
It's more like a feature resource page. From here, you will find some features you missed. The Toolkit window is divided into 4 sections. The first section is to help you backup and restore data. The second section offers a function of contacts and SMS management. The third section is about conversion and music transfer.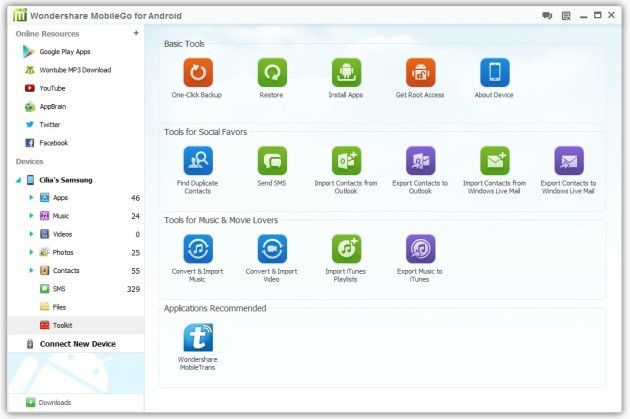 From the above introduction, Wondershare MobileGo for Android is really a good android manager tool. It has intuitive interface, and its powerful functions easily manage contacts, apps, text messages, music , videos and photos on my Android phone. The program supports many Android brands, so you can use it even if you change another Android phone produced by Samsung, LG, HTC, Sony, Google, etc. Mac users can turn to MobileGo for Android (Mac).
Article Source: Wondershare MobileGo for Android: Manager and Transfer Android on Computer