Will iPhone 7 Support T-Mobile's New 400Mbps Network?
Published on September 9 2016
The new modems in Apple's iPhone 7 and iPhone 7 Plus promise faster LTE speeds than we saw on the iPhone 6s series. But some remaining mysteries about the new phones' modems and antennas leave the question open as to whether it can go as fast as the latest Samsung devices.
Although they're one of the most important components in any iPhone (without modems, they'd be iPods) Apple never dwells on its modems at its iPhone announcements. That may be because they're never actually Apple's modems; they're made by Qualcomm, under an ongoing non-disclosure agreement that makes Qualcomm execs look really squirmy whenever you ask them. It's an open secret within the industry, though.
All Apple will say about the modems in the iPhone 7 are that they support "450Mbps LTE." But, from that, we can infer that it's running a "category 9" modem (because the previous class would be 300Mbps, and the next one would be 600Mbps.) That's probably Qualcomm's X12, which is in other leading smartphones this year.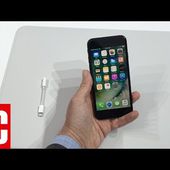 Hands On With the Apple iPhone 7
Apple's iPhone 7 looks like a good upgrade for people who like taking photos, playing videos, and gaming on their phone. For tech reviews, news and opinion, check out PCMag.com: http://www.pcmag.com
https://www.youtube.com/watch?v=E7P-xjso2iA&feature=youtu.be
That means the new iPhone will support 3x carrier aggregation, a new network-speeding technology being used by US and Canadian carriers. That isn't in the previous models of iPhone. So no matter what, you'll see faster speeds on the new iPhone than on the iPhone 6s $649.00 at Apple Store or iPhone SE $399.99 at Verizon Wireless series.
T-Mobile just announced two new technologies, but it's unclear if the new iPhones support them. (I've asked Apple.) They're called 256 QAM and 4x4 MIMO.
To support 256 QAM, Apple would need a software upgrade to the base X12 modem, which it may or may not have installed. To support 4x4 MIMO, Apple would actually need to include extra physical antennas.
My guess right now is that the new phones don't support these two technologies, because if they did, Apple would be calling them "600Mbps LTE" rather than 450. So that means while the iPhone 7 will be the fastest iPhone ever, it still may not achieve the network speeds that the Galaxy S7 $669.99 at T-Mobile, S7 Edge, and Note 7 do, as those have the new technologies. But more facts are sure to come out over the next week; keep checking back at PCMag.com for more.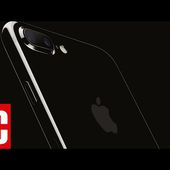 Apple's iPhone 7 Event in 60 Seconds
Apple revealed its iPhone 7 lineup and a few extras at an event in San Francisco on Sept. 7. Here are the highlights. For tech reviews, news and opinion, check out PCMag.com: http://www.pcmag.com ...
https://www.youtube.com/watch?v=bGVxzhoJ0fM&feature=youtu.be