How to transfer contacts from iPhone to Android
Published on April 29 2014
The iPhone and Android are two of the world's greatest mobile platforms. Despite the huge chasm between the two and the perpetual war between die-hard fans from both camps, one can easily be tempted to presume that phone data on an iPhone and Android cannot be shared from one to the other, or vice-versa.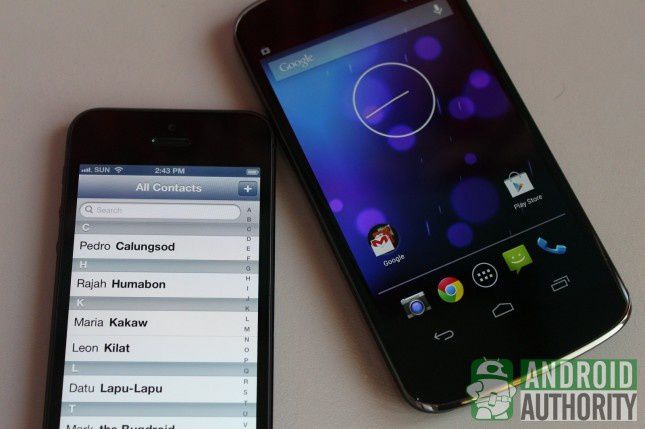 But, of course, that's an easy misconception to make. Many types of phone data can be shared between iPhone and Android. Below, we will show you several ways to transfer contacts from iPhone to Android.
Manually sharing contacts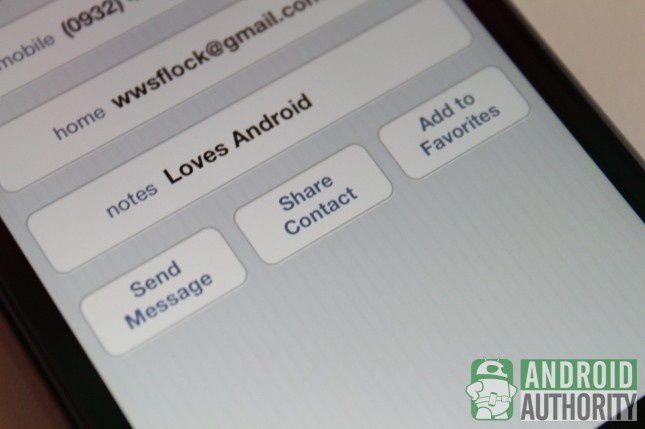 The iPhone's Contacts app allows you to manually share contacts — one at a time — to another device. Open the Contacts app and select a contact. From the contact info page, scroll down and select Share Contact. You can share the contact either as Email or Message.
Sadly, you can only share one contact at a time. It would take some time if you have hundreds or thousands of contacts to be shared.
There are other methods, though, that allow you to share multiple contacts at once.
Via iTunes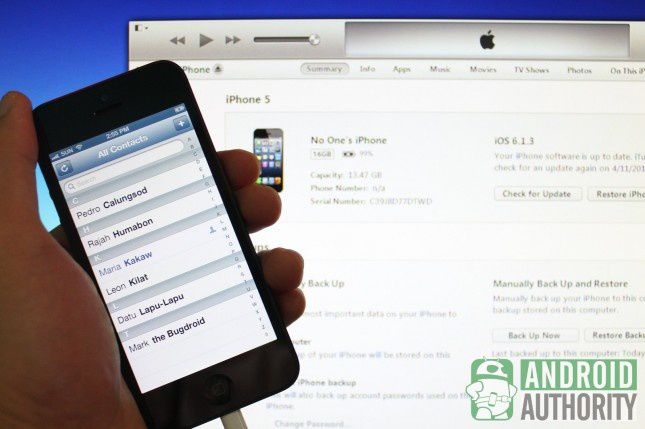 You can use iTunes to sync your contacts from your iPhone to your Google account. For this approach, you will need iTunes installed on your PC, Internet connection on the PC, the proprietary data cable for your iPhone, and a Google account.
Synced contacts will include the contact's name, image, number, and other information such as the address, contact notes, email, homepage, and other fields.
Launch iTunes on your computer.
Connect your iPhone to the computer.
Your connected device will appear in iTunes. Click on it to open the device's summary page
Click the Info tab.
Place a checkmark beside "Sync Contacts With" and select "Google Contacts" from the drop-down menu.
Input your Google account and password, if you haven't done so yet previously. Or, you can click Configure to change a previously set Google account.
Click Apply. iTunes will then sync the existing contacts from your iPhone to your Google account.
If you haven't registered your Google account on your Android phone yet, add your Google account in Settings > Accounts.
Allow your Google account to sync your contacts to your Android phone.
Via iCloud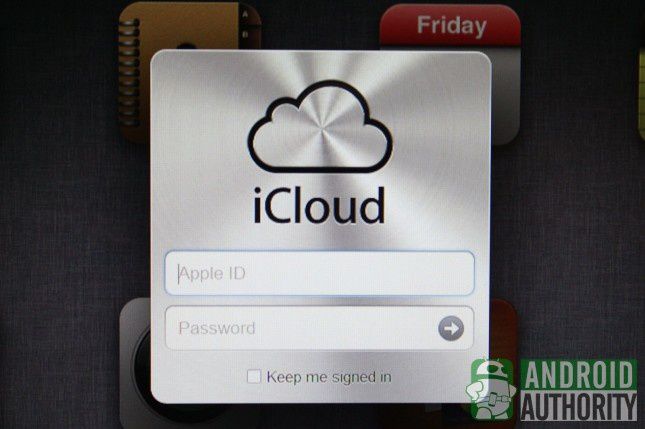 If you've enabled the iCloud service on your iPhone, your phone contacts have most likely been backed up to your iCloud account. You can then export those contacts into a file that can be imported into Android directly, or indirectly through Google Contacts.
Using your desktop Internet browser, go to https://www.icloud.com/ and sign in with your iCloud account.
Click Contacts to view a list of contacts.
Select the contact(s) that you want to export.
Click the cog wheel icon at the lower left and select Export vCard.
Your computer will download a VCF file containing the exported contact(s).
Import this VCF file to Google Contacts or copy the VCF to your Android phone's/sdcard directory and import it to your phone through the People app or Contacts app.
Via apps
Wondershare MobileTrans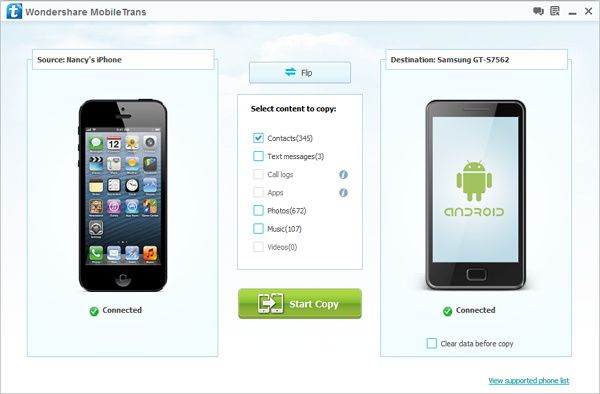 Wondershare MobileTrans is a powerful iPhone to Android Transfer that can can not only transfer contacts, but also text messages, call logs, videos, photos, music and apps from iPhone to Android like Samsung, HTC, LG, Motorola, ZTE, Huawei, Xiaomi etc on Windows.
Tips: If you need to transfer files from iPhone to Android on Mac, you can turn to MobileTransfer for Mac.
Step by step to transfer contacts from iPhone to Android
Step 1: Connect your iPhone and Android to the computer
Run MobileTrans, click "Start" to enter "Phone to Phone Transfer" window. Then, connect your iPhone and Android to the computer.After the two devices are connected, MobileTrans will detect them directly, and you will see the following interface:
Tips: To transfer contacts from iPhone to Android you need to install iTunes on your computer.
Step 2: Transfer contacts from iPhone to Android
Files on your iPhone that need to be transferred to Android are listed in the middle, such as contacts, messages, call logs, apps, photos, audio and videos etc. Check contacts you need to transfer and click "Start Copy" to transfer iPhone contacts to Android. When the transfer is over, click "OK" to end it.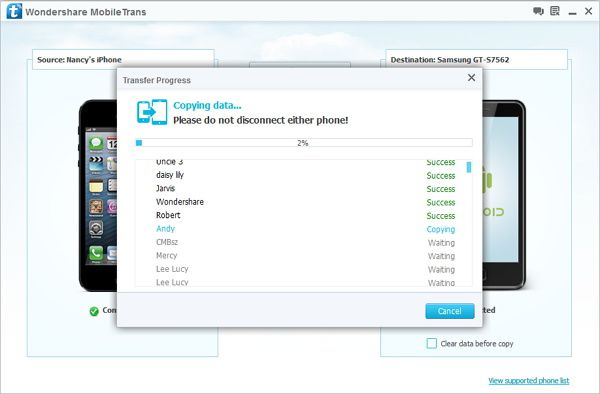 Conclusion
As you've seen, sharing contacts from your iPhone to an Android phone is not that difficult. The process may not be as straightforward as you'd want it to be, but it's doable. There may even be other easy methods that we missed or overlooked.
Which of the methods described in this post worked for you? If you know of other easy methods for transferring contacts from iPhone to Android, let us know in the comments.
Article Source: How to transfer contacts from iPhone to Android