Samsung says it knows why the Galaxy Note 7 exploded — and it's no surprise
Published on January 18 2017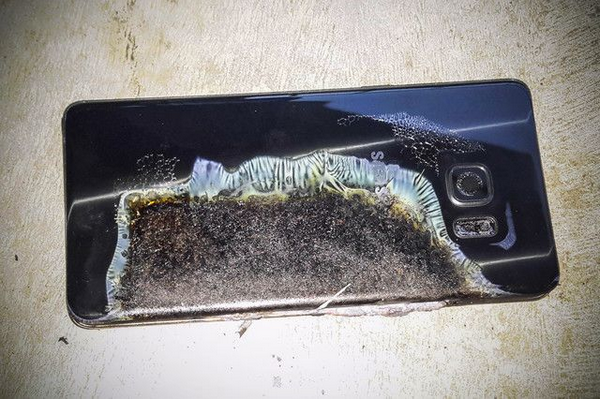 A months-long probe into the cause of the spontaneously combusting Galaxy Note 7 devices has revealed … well, what we already suspected. On Sunday, Reuters reported that Samsung had concluded its investigation of its ill-fated flagship phone, and determined that the battery was the main culprit. Seeing as the battery was the part of the handset known to explode, this comes as little surprise.
The official results of Samsung's inquiry into the matter are likely to be announced on January 23, Reuters reports, which is the day before the South Korean phone manufacturer is slated to announce its fourth-quarter earnings results. According to the publication's anonymous source, Koh Dong-jin, head of Samsung's mobile business, is slated to provide details about both the company's performance in the last part of 2016, as well as what the company will do to ensure that the exploding handset problem doesn't happen again.
The Galaxy Note 7 was first recalled back in September, whereupon 2.5 million devices were ordered to be returned. At that point, the cause of the fire was said to be a manufacturing process issue at Samsung SDI Co. Ltd, one of the phone maker's suppliers. But when a new batch of smartphones with allegedly safe batteries provided by a different supplier continued to prove problematic, Samsung shut down sales of its highly anticipated phone. This ultimately resulted in a $5.2 billion loss.
Samsung's official statement on the cause of the Note 7 debacle will be closely monitored as it makes way for the launch of the next flagship handset — the Galaxy S8. That phone is slated to be released sometime in the first half of 2017, and customers will be none too pleased if it meets with the same fate as its predecessor.
"They've got to make sure they come clean and they've got to reassure buyers as to why this won't happen again," said Bryan Ma, Singapore-based analyst for researcher IDC.
We'll just have to wait one more week to hear what Samsung's final explanation is for the fiery death of the old Galaxy Note 7.
Article Source: Samsung says it knows why the Galaxy Note 7 exploded — and it's no surprise