Samsung JU6500 Smart 4K Ultra HD TV Series vs. Vizio M Series
Published on November 10 2015
If you're in the market for a new TV (or just want to indulge yourself with a new toy), we've compared two popular smart 4K TV models — the Samsung JU6500 Smart 4K Ultra HD TV series and Vizio M series — to help you make the right choice.
The TVs: At a glance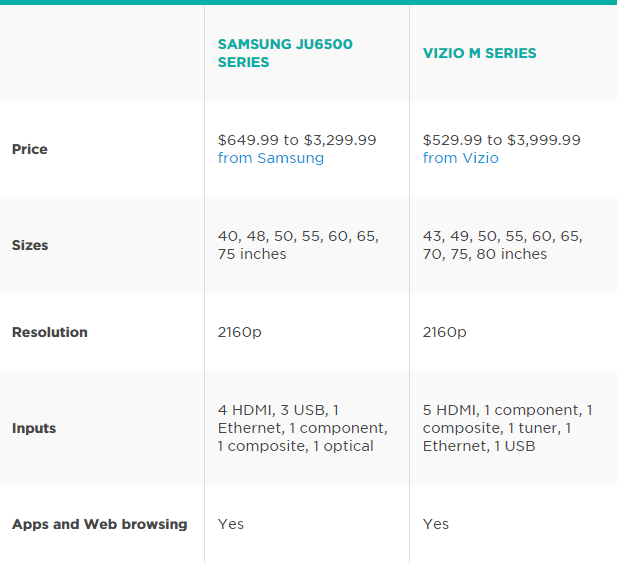 The TVs: Up close and personal
NerdWallet takes you shopping: The Samsung JU6500 series retails for $649.99 to $3,299.99, depending on the screen size. Screen sizes range from 40 inches all the way up to 75 inches.
It wouldn't be called a "smart" TV if it didn't connect to the Internet. Samsung's platform is called Smart Hub; through it you can download apps (like Netflix and Hulu), play games and more. And there's a multimedia panel that lets you quickly access and play movies, music and more from all your devices.
The TV has four HDMI inputs, offering a good number of options when it comes to hooking up peripheral equipment.
Good fit for: People looking for a smart TV with an easy-to-use interface and without a big price tag. Smart Hub makes it simple to view a ton of content, from the Internet as well as from your personal collection.
NerdWallet takes you shopping: The Vizio M series ranges in price from $529.99 for the 43-incher all the way up to $3,999.99 for the huge 80-inch set.
Vizio's Internet platform is called the VIA Plus, and it offers tons of content and apps, such as Netflix, Hulu, Facebook and Flickr.
The TV offers five HDMI inputs, which is great for people who have a ton of extra equipment.
Good fit for: People who want a great TV at a great price, and who have a lot of peripherals. Its Internet hub isn't quite as robust as Samsung's, but it does offer basic apps that should make anyone feel hooked up. And for people who have the space for an 80-inch TV, the Vizio is a good option.
Article Source: Samsung JU6500 Smart 4K Ultra HD TV Series vs. Vizio M Series