Samsung Galaxy S8 to Launch At MWC 2017 On February 26
Published on October 18 2016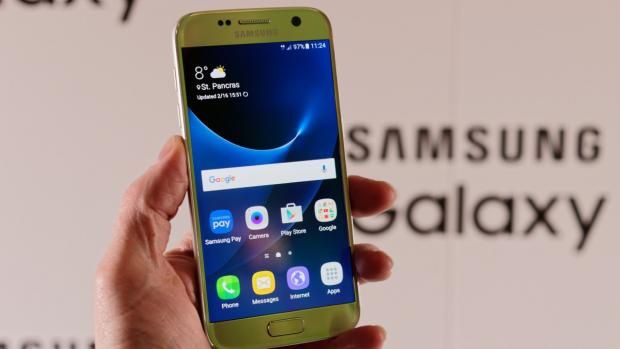 Samsung's Galaxy S8 flagship will rock a 4K display in 2017
Samsung is currently the centre of attention in the mobile space, but not for the best of reasons. You've likely heard by now about how Samsung's most recent handset, the Galaxy Note 7 phablet, has a major manufacturing defect which has caused it to violently explode or catch fire. This has occured in an admittedly small number of cases - however, the defect is such that no-one is taking any risks. Samsung's already issued one major recall at considerable financial loss, issuing refunds or replacement units to consumers, but having deemed these new models "safe" the problem is reportedly still occuring; Note 7's are still blowing up.
For the last few years, Samsung has launched its Galaxy flagships a day or two ahead of Mobile World Congress (MWC) in Barcelona, Spain; the event typically kicks off towards the end of February and/or the beginning of March.
In the aftermath of the Samsung Galaxy Note 7 exploding battery debacle, and Samsung's subsequent mass global recall, rumours are afoot in the tech sphere that Samsung may bring its planned launch of the Galaxy S8 forward, earlier than previously expected.
According to new reports on October 10, Samsung is gearing up to launch the Galaxy S8 on February 26. Twitter tipster @ricciolo1, who has a good track record with these things, posted a teaser image on the social network, which is allegedly an official one. Essentially the teaser reaveals what many anticipated, the launch will take place in Barcelona to coincide with the MWC 2017 expo there, it'll be a Samsung Galaxy Unpacked branded event kicking off at 7pm local time on the aforementioned February 26 date. Ricciolo1 seems to be implying this is the originally planned launch date, however, as the source says "no early announcement".
There are also reports of two Galaxy S8 models being spotted in terms of model numbers, both the SM-G950 and SM-G955; the Galaxy S7 series was codenamed the SM-G930 and SM-G935 for the S7 and S7 Edge respectively. Normally Samsung bumps up the number by a factor of 10, but apparently the number four is unlucky in South Korea so it has been bypassed. This does raise the question of whether these are two regional variants or if Samsung is, contrary to earlier rumours, launching both flat-screen and curved EDGE models.
Some new info has emerged on October 13, with a report from Chinese news site pconline, which claims to have heard from internal sources within the supply chain that there will indeed be two Galaxy S8 handsets. However, both will apparently feature curved EDGE displays - there will NOT be a flat-screen model. Allegedly, what we're looking at is either a 5.1in or 5.2in 2K resolution curved EDGE Super AMOLED display for the one smaller model, and a 5.5in 4K resolution curved EDGE Super AMOLED display for the other.
On October 14, prominent and often reliable source of Samsung news, SamMobile, reports having heard from an insider source who states that Samsung is already working on the firmware for the Galaxy S8. Frankly, this isn't too surprising considering the projected launch date of February 26 and we suspect it's already been in the works for a while - but evidence is evidence, so it's good to have confirmation that the cogs are indeed turning.
Samsung Galaxy S8: Exynos 8895 SoC With ARM Mali-G71 GPU Rumoured
According to new reports around September 24, the previously rumoured Exynos 8995 processor may indeed be heading inside the Galaxy S8, along with a 16nm Mali-G71 GPU manufactured by ARM. The word comes via reputable source SamMobile, which adds that the SoC is still in-development inside Samsung and that the new ARM GPU appears to be a direct successor to the T880 model found with the Exynos 8990 used in the Galaxy S7 series and Galaxy Note 7.
The updated GPU will be particularly interesting as it uses ARM's new Bifrost architecture developed with 4K display and VR applications in mind. This of course fits in nicely with the earlier rumours that the Galaxy S8 will be VR-orientated with a 4K display and is codenamed internally as "Project Dream", which may have something to do with Google's Project Daydream Android VR initiative. The report also adds that the new G-71 GPU is expected to be almost twice as fast as its predecessor (x1.8, to be precise).
The 8995 SoC itself is believed to be using a 10nm semiconductor architecture and can achieve clockspeeds of 3GHz, though it's thought it may be throttled lower.
On October 17, Samsung has revealed that it has begun mass production of SoC products using a 10nm FinFET semiconductor process, which the firm is claiming as an industry first.
"The industry's first mass production of 10nm FinFET technology demonstrates our leadership in advanced process technology," said Jong Shik Yoon, executive vice president of Samsung's chipset production operations.
"We will continue our efforts to innovate scaling technologies and provide differentiated total solutions to our customers." The firm states that the new 10nm production will offer a 27% uplift in performance with a 40% reduction in power consumption.
The plan is for the new 10nm SoCs to be ready for market in "early 2017" while a second-gen series will arrive in the second half of the year. Neatly enough, the arrival of the first-gen batch coincides with the launch of the Galaxy S8 at MWC 2017 in on February 26, while the use of the 10nm FinFET process also fits with earlier rumours that the Exynos 8995 would be a 10nm chip. In other words, it sounds like Samsung has started production of the chips which will end up inside the Galaxy S8!
Samsung Galaxy S8: Dual-Camera
On June 20, sources inside China have claimed the Galaxy S8 will feature a dual-camera sensor. This would mean the handset is keeping in trend with the likes of the Huawei P9 and LG G5, as well as rumours about the iPhone 7 Plus/Pro. According to the details the dual-camera sensor will be engineered by Samsung Motors aka SEMCO, so the firm will be producing its own imaging tech this time round.
An August 30 report has emerged from an allegedly reliable Weibo tipster described as having a good track record. The source is adding to the Galaxy S8 rumour pile; reiterating that the new handset coming in 2017 will have a dual-camera sensor. The informant says that the sensor array will feature both a Samsung-made 12MP sensor and a Sony 13MP sensor. Meanwhile, the front camera is said to be an 8MP setup. The source also says to expect a Galaxy Note 7 style iris scanner.
Samsung Galaxy S8: 4K VR Display
An interesting new titbit has popped up on July 26; having not heard anything much about the Galaxy S8 amidst a barrage of Galaxy Note 7 leaks in recent weeks, apparently we now have a codename for the project. The codename, interestingly, drops some hints about the Galaxy S8 features and also supports earlier claims of a 4K display intended for use with VR, that's because the codename for the Galaxy S8 is allegedly "Project Dream". You may recall that Google is working on a VR platform desgined for Android OEMs to work with on their hardware, and that project is called Google Daydream, so it doesn't take a huge leap to see where one leaves and the other picks up on the naming convention. The word comes via multiple sources in China as reported by local publication MyDrivers.
According to details sourced by the Korea Herald, Samsung's Galaxy S8 will feature a larger 5.5in display with a 4K resolution - allegedly this design feature has been picked specifically with VR in mind, implying that the handset may be being prepared to work with Google Daydream, a possible Google headset, and indeed Samsung's own Gear VR hardware. In addition, the new report also reiterates earlier claims that the display panel will have a UHD (4K) resolution designed for use with VR applications.
UBI Research claims the handset will sport a 3840 x 2160 pixel resolution. Normally we would wonder why something sharper than the Galaxy S7's QHD 5.1in setup would be necessary (at nearly 600ppi) as it's already nearly impossible to pick out pixels if you try, but that said, VR is in its infancy and perhaps there are gains when you're staring directly into a phone dangled inches from your eyeballs.
The current-gen Galaxy S7 edge has a 5.5in display, larger than the regular flagship, so it is interesting that the Galaxy S8 will be enlarged to this size (and also raises questions about the Galaxy S8 edge!), but with that said, there is a possiblity Samsung has figured out a way to enlarge the display without making the chassis much bigger, perhaps a true edge-to-edge display with no bezels and making used of Samsungs flexible OLED tech? This is all of course speculation at this stage.
The introduction of Samsung's curved AMOLED panels has often been called a gimmick but the popularity of these handsets cannot be disputed — punters and reviewers alike love them. The popularity of Samsung's EDGE models even caught Samsung out, forcing the company to rejig its orders in a bid to satisfy demand for the Samsung Galaxy S7 EDGE, which is now outpacing sales of the standard S7 model in some regions.
And this popularity has lead to Samsung adopting an interesting approach to its 2017 Galaxy S8. According to reports both models — the 5.1in and 5.5in models — will feature a curved AMOLED display. The source of the news is the Korea Herald, which reported the following:
"Now the Korean tech giant is promoting the curvy screen as its premium smartphone lineup's key identity," the report notes. "Sources said the company has already started securing display panels in two sizes — 5.1 inch and 5.5 inch — from its own display-making unit Samsung Display, the world's sole producer of double-edged screens. "
Other notable features for the Galaxy S8 are said to be non-exploding batteries, a dual-camera similar to what Apple and LG have already come to market with and the introduction of an iris scanner aboard the handset.
Samsung Galaxy S8: How Many Phones?
We previously reported on rumours that Samsung would bring as many as five flagships to market in 2017, allegedly a Galaxy S8 and Galaxy S8 EDGE, a Galaxy Note 8 and Galaxy Note 8 EDGE, and the folding flexible OLED Galaxy X, aka Project Valley. Naturally most of the attention in recent weeks has focused on that new folding form factor device, but now we're hearing a bit more about the revamp of the Galaxy S7 - next year's Galaxy S8.
With the Galaxy Note 7 launch now behind us, focus turns to the remaining expected devices for 2016 and going into 2017; that includes Apple's next batch of iPhones, the iPhone 7 and iPhone 7 Plus/Pro, and the two new Nexus phones from Google and HTC's partnership, codenamed the Sailfish and Marlin. Then of course there's looking ahead to February next year, around MWC 2017, when Samsung is expected to launch a new batch of flagship devices once again.
Now, here's the kicker; following the Galaxy Note 7 launch, Samsung's chief of mobile, Dong-jin Koh, spoke to reporters from the Korea Herald and said, ""Samsung has considered that it would make the edge display as the identity of the Galaxy S smartphone lineup if the company can provide consumers differentiated user experience through software and user-friendly functions (for the curved screen)."
This is being interpreted, not unreasonably in our view, as a big hint that future Galaxy S flagships will abandon the flat display variant entirely, and instead we will only see curved EDGE displays aboard Samsung's new hero models - just as we saw with the Galaxy Note 7, a curved EDGE display model without the EDGE name, and not accompanied by a flat-screened variant.
This does throw the earlier rumour, that Samsung would bring both flat and curved display variants of both the Galaxy S8 and Galaxy Note 8 to market inside 2017, into question. The question there of course is how far into development such plans have gone before this apparently new decision was made to ditch flat screens on premium models altogether.
Essentially there are two possible scenarios, either this new curved-screen only policy, if real and concrete, will be effective immediately, and mean that in 2017 there will be ONE Galaxy S8 and ONE Galaxy Note 8, BOTH with curved displays and no flat displays in sight, OR, this will apply to whatever generation comes AFTER the Galaxy S8, which may already be too far along in development as a dual-launch of both EDGE curved display variants and flat-screen variants.
That latter scenario, however, probably won't come to fruition in the long term in our opinion; by the time another generation of Galaxy S flagships comes round to adopt the single-model, curved display only policy, Samsung will likely have met with a lot of success from the Galaxy X with its folding flexible display - enough to warrant switching to flexible folding OLED and leaving curved AND flat screens behind; we're expecting this to revolutionise the smartphone form factor, in a nutshell.
Article Source: Samsung Galaxy S8 to Launch At MWC 2017 On February 26