Samsung Galaxy Note 6 To Be MONSTER Upgrade: Specs & Hardware Rumours Detailed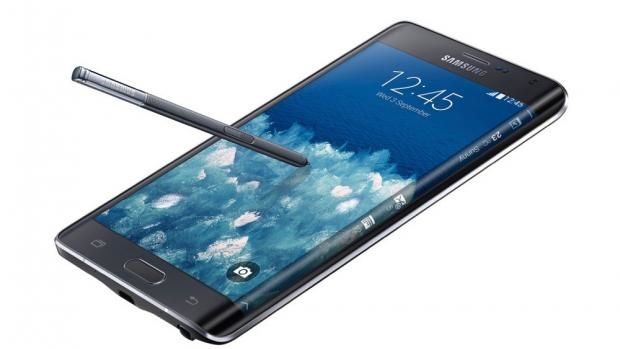 Samsung could be planning to turn the Galaxy Note series into laptop hybrids
As of May 13, more information has emerged from a VERY reliable source regarding the August launch of the Galaxy Note 6. According to Twitter tipster @evleaks, aka Evan Blass, the handset will arrive in the US on the week of August 15 specifically, although exactly which day within that week remains up-in-the-air. There isn't any info regarding a wider launch or a UK release, but considering earlier rumours have been pretty hot on the idea that it WILL land in the UK this time, and considering Samsung usually does pretty unified global rollouts when it launches major handsets internationally, we're expecting the UK date to be in a similar ballpark.
Samsung Galaxy Note 6 US release scheduled for week of August 15th.
Samsung Unwraps Monster 6GB RAM Chip
Reports have emerged on May 20 that Samsung, in attendance at the Samsung Mobile Solutions Forum in China, has revealed its new RAM chip that is believed to be destined for the Samsung Galaxy Note 6. The new chip is an LPDDR4 DRAM setup using a 10nm architecture at a whopping 6GB - the very same capacity previously rumoured for the Galaxy Note 6. The use of the 10nm architecture should not only make the RAM faster but also run more efficiently and with reduced power consumption, resulting in better battery performance for the phone. That would be good news on its own, but when you consider we're looking at a rumoured 4,000mAh battery in the Note 6 plus the recent optimisations in software seen on the Galaxy S7 (resulting in some pretty impressive battery life gains) then this thing is sure to be quite the marathon runner in terms of stamina.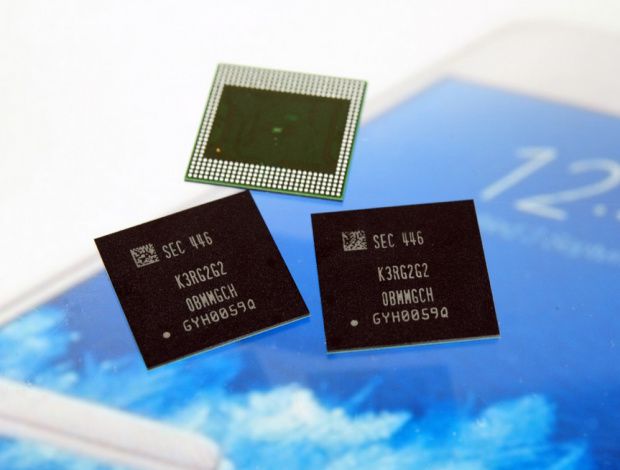 Samsung Galaxy Note 6 - To EDGE, Or Not To EDGE?
According to leaked details from Dutch website GSMHelpdesk's allegedly reliable sources, Samsung has been testing TWO Galaxy Note 6 prototypes and will be choosing between them with regard to which one will go forward as the production model. That's an important point, because the two differ on design. You may recall when Samsung launched the Galaxy Note 4 it also launched the Galaxy Note EDGE, a similarly specced handset with a limited distribution, and which was the first Samsung handset to feature the firm's now familiar curved edge Super AMOLED display.
The leaked info says that one of the prototypes for the Note 6 has a curved edge display, while the other is a regular flat screen, meaning that Samsung is trying to decide whether to make the Note 6 with curvy display edges or not, but it will NOT launch two variants one with and one without, as it did with the Note 4 generation and with the last two generations of Galaxy S flagship (S6/S7).
Reports inside 2016 following the launch of the Galaxy S7 series have shown that in terms of sales, shipments and pre-orders, the Galaxy S7 edge appears to be the far more popular of the two. In other words, edge displays are appreciated by Samsung's consumer base, so it's not a shock to find out that Samsung has taken action with this information. Introducing the edge variant to the Galaxy Note series once again certainly makes a lot of sense, particularly as it's a phone concept with added-functionality at the heart of its design ethos.
With the launch of the Galaxy S7 and Galaxy S7 edge, some were a little perplexed that Samsung had not fitted the flagship duo with the new USB Type-C connector; that's the type which uses a new cable and port design that allows the cable to be insterted either way round. This type of connector is slowly being phased in and has appeared on a few rival handsets, but Samsung has been slow on the uptake.
Why? Well one theory is that the firm was previously not keen on replacing the relatively new Samsung VR headset, what with VR being all-the-rage, and that device uses the old microUSB port design to connect with your phone; switching to the new type on the Galaxy S7 and Galaxy S7 edge may have pissed off a bunch of Gear VR owners. Anyway, the news on May 3 coming via SamMobile, is that the Galaxy Note 6 WILL feature Type-C USB, we can only assume that Sammy feels its been long enough to justify the switch now, but it will likely require the introduction of a new Gear VR headset with the new port type and the firm MAY launch this alongside the Galaxy Note 6.
Samsung Focus "Hub" Feature Rumoured
According to a rumour emerging from reliable Samsung source SamMobile on May 11, Samsung intends to introduce a new productivity feature aboard the Galaxy Note 6, dubbed Samsung Focus. Samsung Focus is reportedly similar to the BlackBerry Hub seen aboard the last few devices released by the Canadian phone-maker, in the sense that it will act as an aggregation platform for communications and important information. At the very least, the sources say it will heap your emails in one place as well as calendar info, contacts, and notes - again very similar to the BB Hub and in the same way meaning that you don't have to hop from one app to the other all the time just to see new or important details. Samsung is also allegedly sticking very faithfully to the Google Material Design aesthetic in order to keep this a no-frill experience free from complications and distractions. The report says there may be additional features other than the ones mentioned, but there is no other info known at this stage. We're expecting Samsung Focus to be a central feature of the handset, so Samsung will probably hype it up quite a bit on launch, and with that being the case we suspect this isn't the last pre-launch leak of the feature before it arrives officially.
Samsung Galaxy Note 6 Specs & Hardware
Camera
Word on the street suggests Samsung isn't resting on its laurels when it comes to imaging technology inside the upcoming Galaxy Note 6 and next year's Samsung Galaxy S8. In recent times, we've seen nearly all major Android players reduce their handset's MP-count and drill-down on proper imaging technology that actually delivers tangible results.
Things like aperture ratings being below f/2.0 (lower numbers mean wider apertures and more light in the sensor), and a larger size for the sensor itself (again, bigger sensors allow in more light). HTC, LG and Samsung have all done this on their respective 2016 Android flagships. Do not expect this trend to change from now on or next year.
"Samsung is working on a brand new 1/1.7-inch CMOS camera sensor with an aperture as wide as ƒ/1.4," reports Sam Mobile. "The new sensor could have a resolution of anywhere between 18-24 megapixels. The company is also working on a new compact 1/2.3-inch camera sensor."
It added: "Samsung recently announced that it will not release any new cameras in its NX lineup (at least in some markets), and it has been moving people from its NX camera department to its smartphone department. The South Korean smartphone giant is really focused to improve the image quality on its smartphones, and it seems to have a very aggressive roadmap."
Monster RAM
A leak regarding the Galaxy Note 6 suggests it will feature… wait for it – 6GB of RAM. That's right, the next iteration of Samsung's Galaxy Note line will feature 2GB more than its predecessor, indicating Samsung has some pretty big plans for the device — could the rumoured docking station (see below for details) be on the cards?
"In addition," reports GSM Arena, "the rumour also notes that the handset's screen will be pressure-sensitive with 1,024 pressure points. This, however, doesn't seem correct as it's a downgrade from the Note 5, which already has 2,048 pressure points. As for the other specs, the phone is said to be powered by two different chipsets (like it is in case of the Galaxy S7 we assume), and will have 64GB and 128GB UFS 2.0 internal storage options. The rumour also notes a 12MP rear camera with Super OIS."
Processor
An info leak from April 12 suggests it will have a brand new Qualcomm Snapdragon 823 processor.
This is according to tipsters inside China - SamMobile reports that local source HQ_Vision, posting to Chinese social media, listed a big batch of specs for the Galaxy Note 6 (amongst other devices) which include some already established, but also some new ones. The processor is listed as a quad-core MSM8996 Pro, also listed as the Snapdragon 823 - it's based on Qualcomm's 64-bit Kryo core architecture, with a clock-speed of 2.6GHZ, with an Adreno 530 GPU and support for up to 8GB of RAM; though the Galaxy Note 6 has already been rumoured with 6GB. A whole 6GB is unprecedented in a phone anyway, so it is likely that if this rumour is true Samsung is simply choosing not to hit the CPU's RAM limit.
Battery
Samsung is said to be REALLY taking battery performance into consideration for its upcoming Galaxy Note 6. According to a report from Dutch tech site, GSM Helpdesk, the Galaxy Note 6 will feature a massive 4000mAh battery cell in its backside. If true, this should translate into monstrous battery performance, even when compared to big hitters already available like the Huawei Mate 8.
The report also echoes previous rumours we've heard about the Galaxy Note 6: it'll feature a 5.8-inch display with a resolution of 1,440 x 2,560 pixels, along with 6GB of RAM and 32GB of internal storage. Nothing has yet been said about whether you'll be able to remove the battery, however, and if we were betting men we'd probably put our cash on the battery life being sealed inside, as per Samsung's new design language.
Waterproof
According to details emerging on April 11, the Galaxy Note 6 will feature water and dust proofing with IP68 certification too. This is great new for Galaxy Note fans and a first for the phablet series. In some ways though, it's not entirely surprising, the Galaxy Note series often keeps step with changes made to the Galaxy S falgship series and uses a similar design language - essentially, it is likely to be a bigger, super-powered version of the Galaxy S7 with extra bells and whistles, and as we all know, the Galaxy S7 series restored waterproofing to the flagship line along with a metal and glass bodyshell. The word comes via SamMobile, a reputable source for Samsung rumours, and to be extra specific the IP68 certification means up to 1.5m of water for up to 30 minutes is covered.
There's also some talk of a possible iris scanner, although this is much shakier at this stage. It's believed Samsung may bring the launch forward from its usual September slot to as early as June 2016, but analysts say this time we will likely see a European rollout - which is the best news!
Beyond The Galaxy Note 6
A patent has been unearthed by Patently Mobile which showcases how Samsung is considering an interesting hybrid design for future Note devices. The concept has echoes of Asus' Padfone handset, which could be docked with a large-form tablet, which could in-turn be docked with a keyboard to become a laptop - all of the processing power came from the phone, however.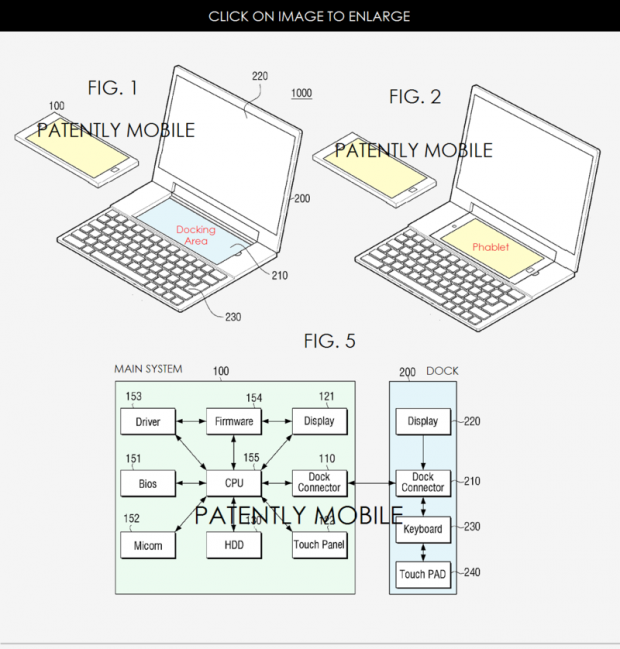 Samsung's design illustrates a large phablet-like phone with a laptop dock, as you can see from the image, the phone slots into a port between the keyboard and the laptop display. It also clearly shows that the dock only contains connectors, keyboard, and the display (and likely a larger battery cell, though this isn't listed) - once again it is the phone that contains all the storage, processor, and software. It appears the phone would function as a touchpad for the laptop when docked.
While the Galaxy Note series is already powerful enough to be considered, like many smartphones, a miniature computer in its own right, the patent implies that a future version will have enough clout and storage to function as a proper computer in this dual-role. It's something of a logical extension for the Note series which is already focused on productivity tasks and desktop-like multitasking features. The main questions remaining focus on software.
But the fact that Samsung is putting 6GB of RAM inside the Galaxy Note 6 implies the company has bigger ideas for the handset than just being a phone.
There has been plenty of talk about Google merging ChromeOS with Android in the past 12 months. Microsoft has a unified platform now with Windows 10 and Apple has begun transferring elements of iOS to OS X, though the iPhone maker has flat out denied the two platforms would ever become one.
Does Samsung know something we don't about Android N? Could the Galaxy Note 6 run Android and then, once docked with the laptop-component, ChromeOS? It's certainly possible and it'd go a long way to explaining why Samsung wanted to fit 6GB of RAM inside the Note 6.
And perhaps this is why Samsung wasn't too fussed about rocking the foundations of the mobile space with its Galaxy S7? The LG G5 cannot be an anomaly; the wider space HAD to know what LG was up to. Nothing is secret in the mobile sector. Not anymore. And as much as I like the Galaxy Note 4 and Galaxy Note 5 I do kind of want to see something completely different with the Galaxy Note 6 -- something left field.
I kind of feel like Samsung is resting on its laurels, getting by with pretty handsets made of nice things and not giving them much other thought, save for the arbitrary bump to specs and hardware. The Galaxy Note 6 CAN be the handset that shakes things up 2016 and lord knows Samsung needs something because LG has basically stolen its thunder at MWC 2016 with the AWESOME LG G5.
Samsung could also spec the hell out of the laptop element as well. Things like a 4K display and a decent keyboard and trackpad would make the device very attractive to users and, unlike Apple's iPad Pro, actually provide an all in one phone, tablet and laptop experience.
Google's Material Design ethos is leaning towards a unified platform across devices, but it's still not quite as desktop orientated as Windows. It'll be interesting to see how things change as iOS and OS X continue to merge, and Microsoft is understood to have big plans for Windows 10 as a unified system. Is something already afoot at Google HQ in this regard that Samsung knows about? It's all intriguing stuff, but we probably won't get any answers for a while. We'll be sure to let you know when we do hear more about Samsung's hybrid projects though. Stay tuned.
Article Source: Samsung Galaxy Note 6 To Be MONSTER Upgrade: Specs & Hardware Rumours Detailed