Lumia 950 Reviews: Microsoft's Best Isn't Good Enough
Published on November 23 2015
With the Microsoft Lumia 950 smartphone now on sale, reviews of the Windows 10-powered handset are coming in. Microsoft's Panos Panay is clear in the offering, which he details on the Microsoft Devices Blog:
…we've combined the familiar and consistent Windows experience with powerful hardware, stunning displays, innovative experiences like Continuum for Phones and Windows Hello beta for Lumia, and top-of-the-line imaging to deliver our best smartphones yet. These phones were designed to increase your ability to get things done, easier and faster, and are the most productive smartphones on the planet.
Does that promise bear out in reality? Looking over the online reviews, it's clear what Microsoft was trying to do, but the Redmond-based company has fallen short of the mark in some areas, and that's enough to make the Lumia 950 a difficult phone to recommend.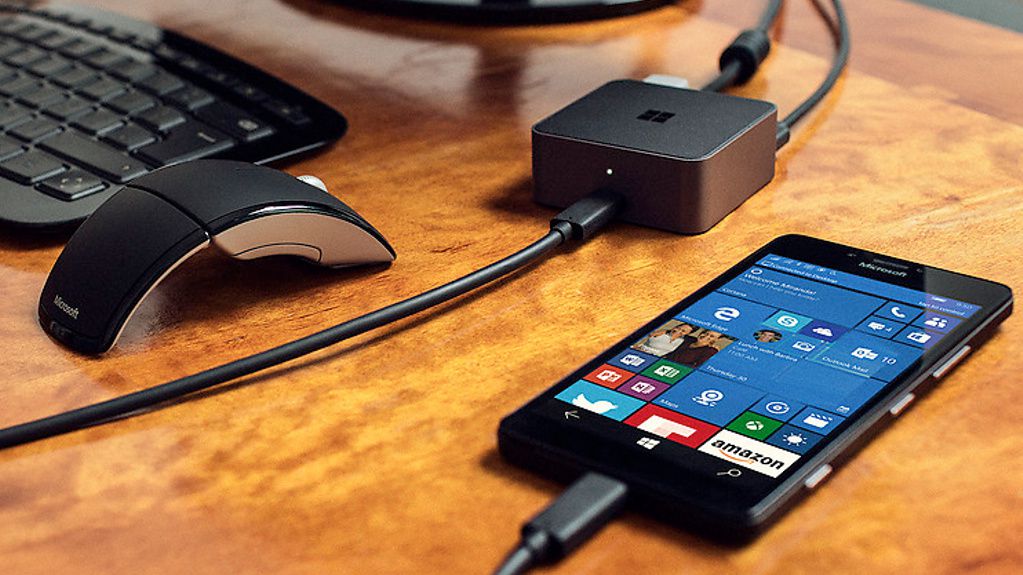 Mary Jo Foley looks over the design of the Lumia 950 on ZDNet. Staying with the tougher polycarbonate that Nokia used on the Lumia devices when it was in charge certainly keeps the weight down and the ability to absorb damage a touch more than metal. But it does trade away some status.
It's not a metal phone; it's got polycarbonate casing which feels a bit plasticky. Being a Lumia Icon user who was more than willing to trade a metal body for a lighter phone, I am fine with polycarbonate.
The phone feels light, at .33 pounds, or 150g, and well-balanced. The backs (which come in white or black) are replaceable and some nicer-looking cases are already available from third party providers.
Peter Bright looks over the specifications of the Lumia 950 for Ars Technica. The Lumia 950 is Microsoft's flagship device, and the numbers on offer in the hardware bear that out. What it doesn't offer is anything above the expected norms of a high-end smartphone. Echoing devices like the Google designed Nexus handsets is not enough:
Adequate? I mean, the specs are perfectly decent. High end, even. The 950/950XL pair in a lot of ways mirror the Nexus 5X and 6P Android flagships. There's the same screen size split (5.2 and 5.7 inch) and same processor split (808 and 810), though Google adds a RAM differentiation (the smaller phone only gets 2GB) and screen resolution change too (the 5X is only 1920×1080. Only! As if 423 pixels per inch were somehow inadequate). The claim to be flagships is perfectly credible, at least based on the internals.
…The hardware in the Lumia 950 is functionally identical to that of the Nexus 5X, and so its 3D performance should be more or less identical. The phones obviously have different driver stacks; Gfxbench uses Direct3D on the Lumia 950 and OpenGL on the Nexus 5X, but that shouldn't really cause much in the way of performance differences. It's possible that the fault lies with Gfxbench somehow, but I'd guess that the Direct3D drivers simply aren't very good.
Of course a 3D graphics chip is only going to come in useful for applications – primarily games – that would make use of it, and Windows 10 in its mobile form is missing a lot of key titles.
Mike Prospero highlights the screen on the Lumia 950. It's one of the key selling points of the device. With a high pixel count and good color reproduction only the overall brightness lets it down, but the clear typography still evident in Windows 10 does help.
One way the Lumia 950 keeps up with the smartphone Joneses is with its 5.2-inch quad-HD AMOLED display. The screen's resolution of 2560 x 1440 (564 ppi) is on a par with the S6 Edge, and sharper than the Nexus 5X's 1080p panel.
However, the Lumia 950 doesn't have the brightest display; at 360 nits, it's well below the average of 430 nits, the Nexus 5X (454 nits) and the S6 Edge (536 nits). But I found it to be readable even in direct sunlight. Still, it can display 115 percent of the sRGB color gamut (anything over 100 percent is great), and the colors it shows are fairly accurate, as evidenced by its Delta-E score of 1.9, where numbers closer to zero are better. It's also protected by Corning Gorilla Glass 3, in the event you drop the device.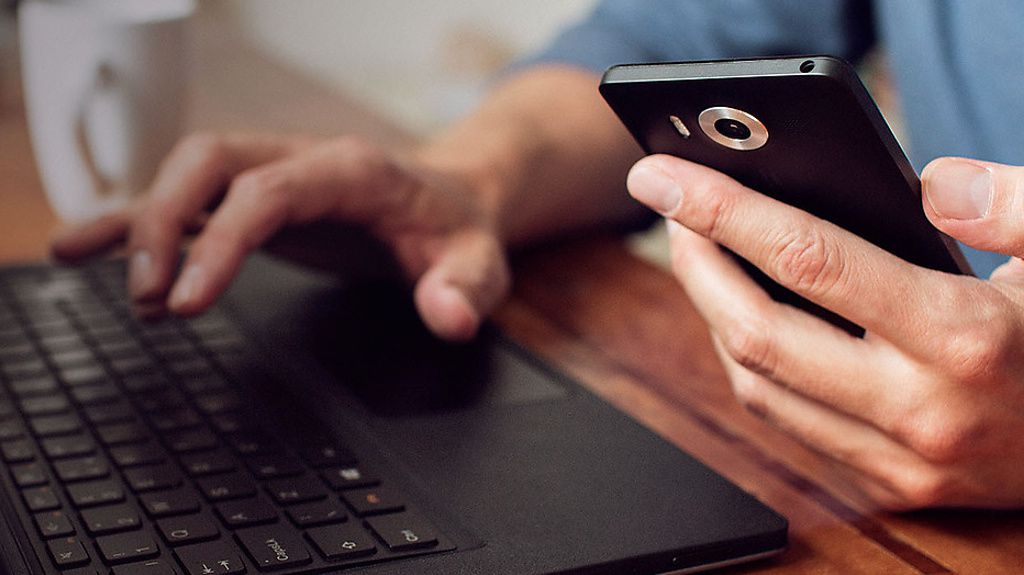 For initial thoughts on the camera, lets turn to Windows aficionado Paul Thurrot who takes a closer look at the optics in the handset – optics that have been worked on by a significant number of former Nokia employees:
It's excellent, and on par with my iPhone 6S Plus for most common, everyday shots. But where the Lumia 950 really excels is in low-light situations, which I've been able to test outdoors and in the dimly-lit pubs of Manchester, England this week at night… For now, I can say that Lumia aficionados will be very pleased, and not just that there's a dedicated camera button.
The big selling point in the Lumia 950 (at least in the initial marketing) is the ability to use the handset as the base of a desktop computer. Okay it's not as fast or as slick as the top-of-the-line models you can find today, but it is up to the job. The process is called Continuum, and Dan Seifert explains in more detail on The Verge:
What really sets the Lumia 950 and Windows 10 apart from the Androids and iPhones of the world is its Continuum feature, which is an attempt to turn your diminutive phone into a full-fledged PC. To do that, you need Microsoft's $99 Display Dock (or a Miracast dongle), a mouse and keyboard (Bluetooth or USB), and an external display, such as a monitor or TV. Plug your phone into the dock, plug in or pair your peripherals, and plug in your display, and boom, all of your phone's content is now on the big screen. And it's not just a blown up version of your phone's display: Continuum recognizes that the monitor has a different screen size and resolution from your phone and presents something like a desktop, complete with Start menu and Action Center. It really looks just like Windows 10 on a PC.
Any Windows smartphone is going to have an obvious achilles heel – the lack of third-party software apps It probably doesn't need any explanation – and it's one that Techno Buffalo's Todd Haselton has picked up on. It's hard to disagree with his points:
One of the major shortcomings of Windows Phone, now known as Windows 10 Mobile, is its severely limited selection of applications. You won't find popular ones that are widely available on other platforms. Instagram is still in beta, for example. Periscope doesn't exist at all (at least in any real usable fashion, but you'll find ripoffs that don't work properly.) Some are starting to make their way into the platform, though.
Slack has a really great beta available, for example. Microsoft expects developers to see that there are now 1 billion Windows users, and to port their apps to Windows 10 Mobile using new tools. That should help improve the problem over time, but it isn't solved yet. And, while we're on the topic of developing apps that span platforms, I find it odd that Microsoft's own Skype application doesn't scale to work properly in Continuum. One would think Microsoft would fix this if it expects other developers to do the same.
The Lumia 950 is a curious phone. It has flagship levels of hardware inside a plastic case (albeit a relatively strong plastic case). It has some stand-out functionality such as Continuum, but the lack of a solid third-party app system lets the whole platform down. Joanna Stern sums up the Lumia 950 in the real world rather nicely for the Wall Street Journal:
If phones will one day replace our computers, we're going to choose the phones with the apps and services we already love. Unfortunately for Microsoft, right now those are iPhones and Android phones, which already work great with Microsoft's own apps and services.
It feels like the Lumia 950 is a proof of concept that might help Microsoft get momentum for its new strategy. But I can't recommend buying a $600 proof of concept.
We'll be taking our own closer look at the Lumia 950 on Forbes in the near future.
Article Source: Lumia 950 Reviews: Microsoft's Best Isn't Good Enough