Latest Samsung Galaxy Note 5 Leak Has A Big Surprise
Published on August 5 2015
Blass has a long -and decent- track record of leaking images of devices before they're officially launched. The latest round of photos, which appear to be press shots (pictures sent to press along with a press release) show the Note 5 next to what appears to be the Galaxy S6 Edge+.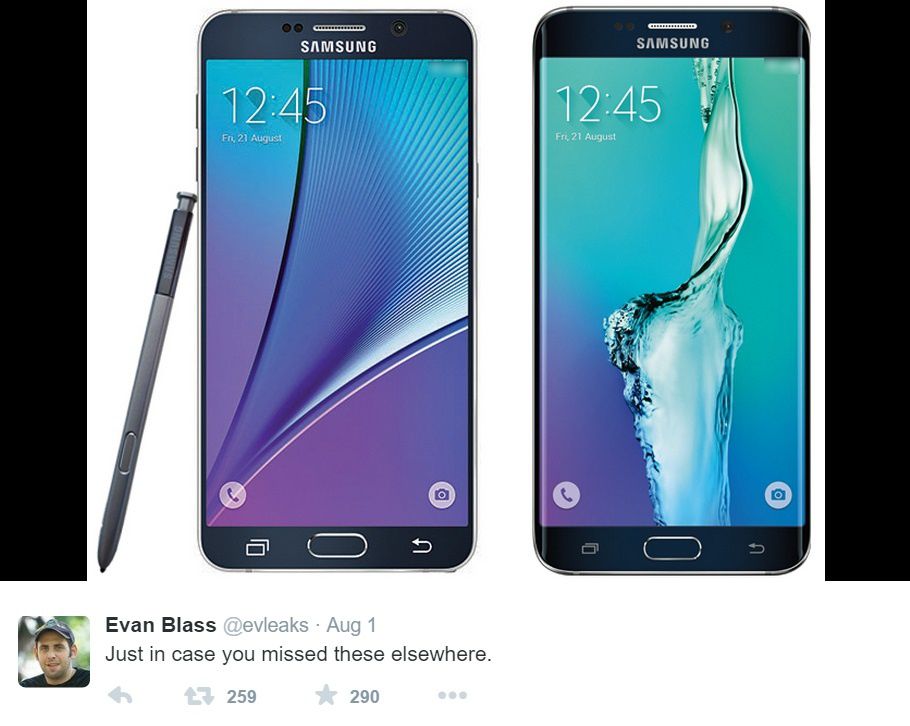 What struck me is how similar they look. Not just to each other, but also to the current flagships, the S6 and S6 Edge (Forbes Contributor Ewan Spence goes into this in more detail here). Of course, all smartphones suffer from 'identikit' syndrome in some way, but these two look like stretched out versions of the current dual flagships.
The only clear difference is the S Pen casually balanced on the left side of the Note 5, like it's the peripheral 'funny guy' character in a 90s sitcom.
Blass also leaked what is likely the accurate, and final, specifications. The designs in the leaked images offer no surprises: neither the Note 5 nor Edge+ will feature a removable battery or SD card. In response to another user asking why Samsung is sticking with that unpopular decision, Blass speculated that Samsung had decided (and probably put into production) on the design long before the omitted features caused such a fuss.
There is, however, one big surprise buried in Blass' leak: what what processor Samsung will use in the Note 5. Blass tweeted that the upcoming phablet (reportedly codenamed "Noble ") will use the same processor found in the S6 and S6 Edge, the Exynos 7420, rather than the 7422.
It had been widely reported that the Note 5 would likely be the first to use Samsung's new embedded package-on-package (ePoP) memory. You can read about the importance of ePoP here, but in short it can save up to 40% of space in a traditional smartphone (leaving more space for a bigger battery) and is generally more efficient.
I had speculated that using the 7422 could mean a much bigger battery for the Note 5, but that's now looking less likely. Whilst Samsung has a new design strategy that it's clearly sticking with, I thought that it would continue to buck the trend with the upcoming Note (as it has done in the past).
What's unusual is that Samsung had made a big deal about the ePoP solution being used in high-end smartphones. In its original statement back in February, the Korean company used phrases like "high-end", "premium" and flagship multiple times. With that kind of language, it seemed logical that Samsung would introduce new the memory-stack into its next line of top-end devices. This, I assume, is also where most of the 7422 rumours began.
In fairness, it also mentions other OEMs utilizing the technology, as this is a big part of Samsung's business. But it stands to reason that Samsung would adopt significant jump in technology for use in its own products, especially if it's the inventor.
But, if we're to believe Blass' leak, then it seems like fabled ePoP and the larger battery that it allows won't be a reality for the Note 5. With that said, this is just a rumour (from a highly respected source), and nothing will be confirmed until the 13th.
Article Source: Latest Samsung Galaxy Note 5 Leak Has A Big Surprise