Huawei Watch 2 leaks out in a trio of colours
Published on February 24 2017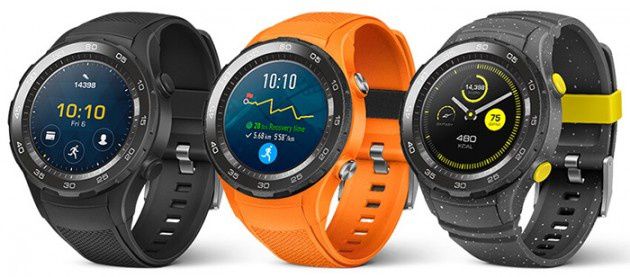 The Huawei Watch 2 is due to be unveiled this weekend, but thanks to the rumor mill, we're getting a look at the new Android Wear smartwatch today.
Several press renders of the Huawei Watch 2 have been shared by VentureBeat. Not only do the images give us a look at the Huawei Watch 2 from several angles, but they also show off the three colors that the device will be available in: black, orange, and gray with light flecks.

When it comes to features, the Huawei Watch 2 is expected to include a 1.4-inch round display, a nanoSIM slot for cellular connectivity, and Android Wear 2.0. We can also see wireless charging pins on the back of the device as well as buttons on its right side that'll presumably be used for app shortcuts.
Huawei's teaser suggested that the Watch 2 will place a focus on fitness, and it appears that that will indeed be the case. With its rubberized band, bright colors, and cellular connectivity, the Huawei Watch 2 looks like it could be a nice smartwatch for active Android users whenever it launches. As for when that'll happen, we should learn more this weekend when Huawei officially introduces its new Android Wear 2.0 smartwatch.
Article Source:Huawei Watch 2 leaks out in a trio of colours