How to transfer text messages from iPhone to Xiaomi
Published on September 5 2014
Do you know what's the most popular phone maker in China? Samsung? No. It is Xiaomi, a Chinese based electronics company. According to the related statistics, Xiaomi distributed around 15 million phones in early 2014 while Samsung came up short at 13.2 million.
Xiaomi phones are mainly sold in China and some Asian countries such as India, Malaysia, Singapore. The company also has plan to expand to Thailand, Russia, Turkey, Brazil and Mexico etc. And in the near future, you may see Xiao phone in European and American countries as well.
With Xiaomi taking up more and more mobile phone market share, you will be not difficult to find that more and more people are switching from their iPhone to Xiaomi. Then, you may need to transfer text messages from iPhone to Xiaomi. But, how to do?
Don't worry, you can turn to Wondershare MobileTrans which is a professional iPhone to Android Transfer that can transfer text messages from iPhone to Xiaomi. Besides, it can also transfer other files such as videos, photos, music, contacts etc from iPhone to Xiaomi and Xiaomi to iPhone as well.
Tips: If you are using a Mac you can use MobileTrans for Mac to transfer messages from iPhone to Android on Mac.
Step by step to transfer text messages from iPhone to Xiaomi
Step 1: Connect your iPhone and Android to the computer
Download, install and run MobileTrans, click "Start" to enter "Phone to Phone Transfer" window. Then, connect your iPhone and Xiaomi to the computer.
After the two devices are connected, MobileTrans will detect them directly and separate them as "Source" and "Destination" on the left and right. Just as what you can see below: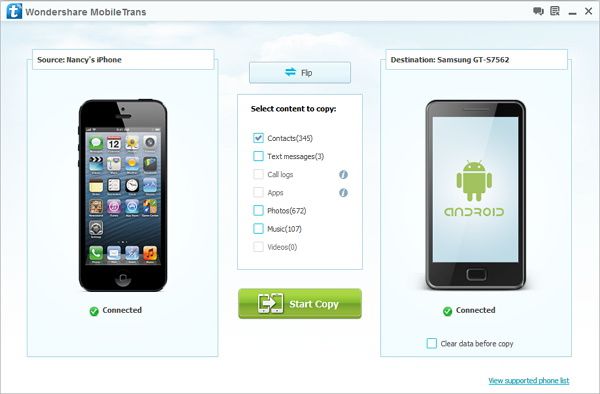 Tips: If you want to remove SMS messages on your iPhone, just click "Clear data before copy".
Step 2: Transfer text messages from iPhone to Xiaomi
Tick "Text Messages" in the transfer window and mark the SMS you need to transfer from iPhone to Xiaomi. Then, click "Start Copy" to begin transfer. During the process, do remember to connect your two phones all the time.