Apple iOS 9.3 Now Available: Here Are 7 Amazing Features It Has
Published on March 22 2016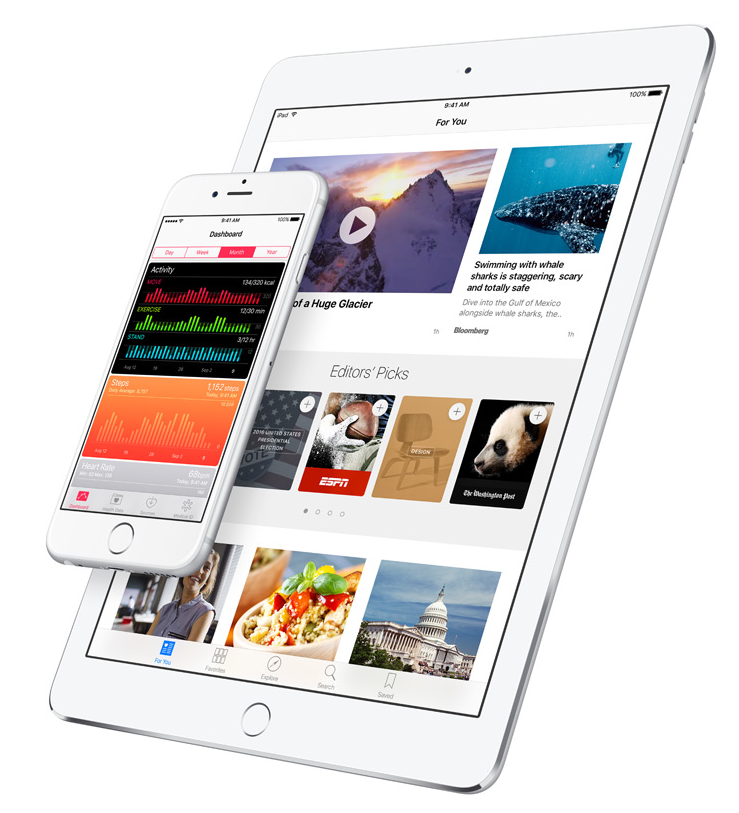 On January 11th, Apple released the first beta of iOS 9.3 for developers and the final version of iOS 9.2 shipped out to the public about a week later. And then Apple rolled out several betas of Apple iOS 9.3 over the last few weeks, which included many bug fixes and improvements. Today Apple announced several new products and software updates at the "Let us loop you in" event such as the iPhone SE and the 9.7-inch iPad Pro. Apple also revealed iOS 9.3 is now available for download. Here is a breakdown of the new features packed into iOS 9.3:
1.) Night Shift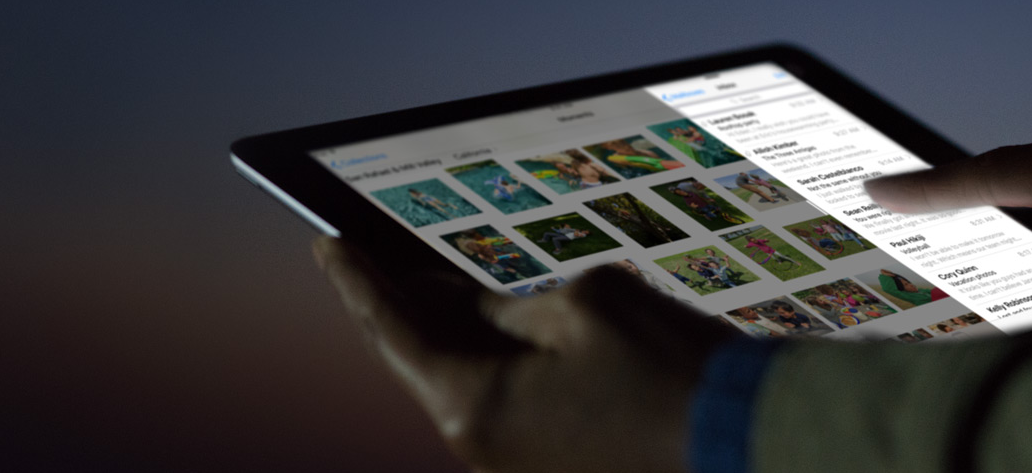 The feature that really stands out in iOS 9.3 is one that will help you get a good night's sleep called Night Shift. There are studies that have shown reading content with bright blue light in the evening affects circadian rhythms and makes it difficult to sleep.
Apple said that Night Shift uses the device clock of your iOS device and geolocation to determine when it is sunset where you are. From there, the device changes the colors in the display to the warmer end of the spectrum to make it easier on the eyes. Then the display switches back to normal colors in the morning.
Forbes contributor Gordon Kelly pointed out Android has hundreds of blue light apps, but Apple has not provided display APIs for iOS developers to create those types of apps. An app called F.lux was also pulled from the Apple App Store for violating private APIs to enable a feature that is similar to Night Shift. In response to the Night Shift feature in iOS 9.3, the developers behind F.lux publicly asked Apple to open the Night Shift API.
2.) Notes App Receives New Security Features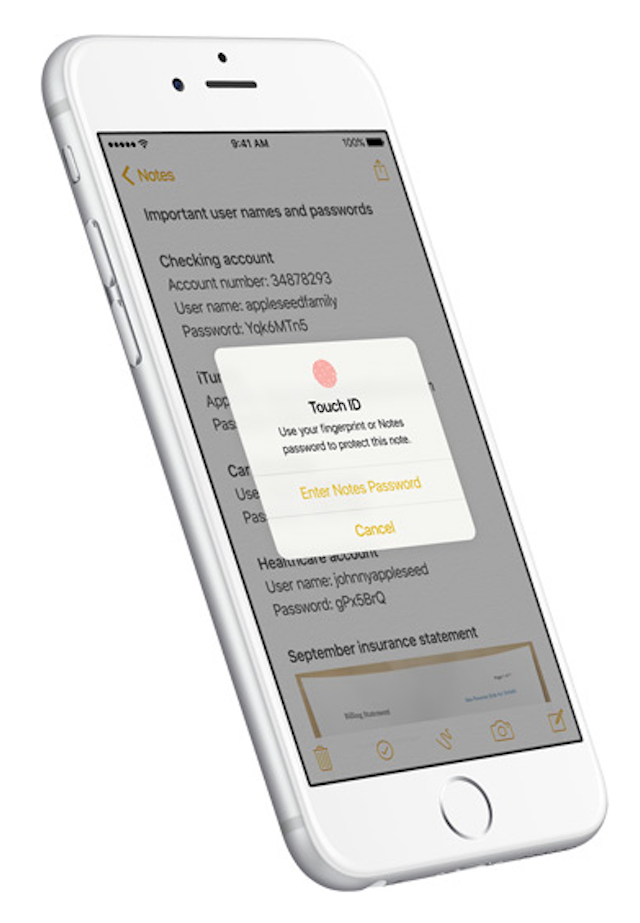 Many people use the Notes app for iOS — which syncs with Mac OS X — for website logins, to-do lists, financial information and other personal details. Now you can secure the Notes app for iOS with the Touch ID fingerprint sensor and a passcode. iOS 9.3 also added the ability to sort Notes by date created, date modified or alphabetically.
3.) News App Is More Personalized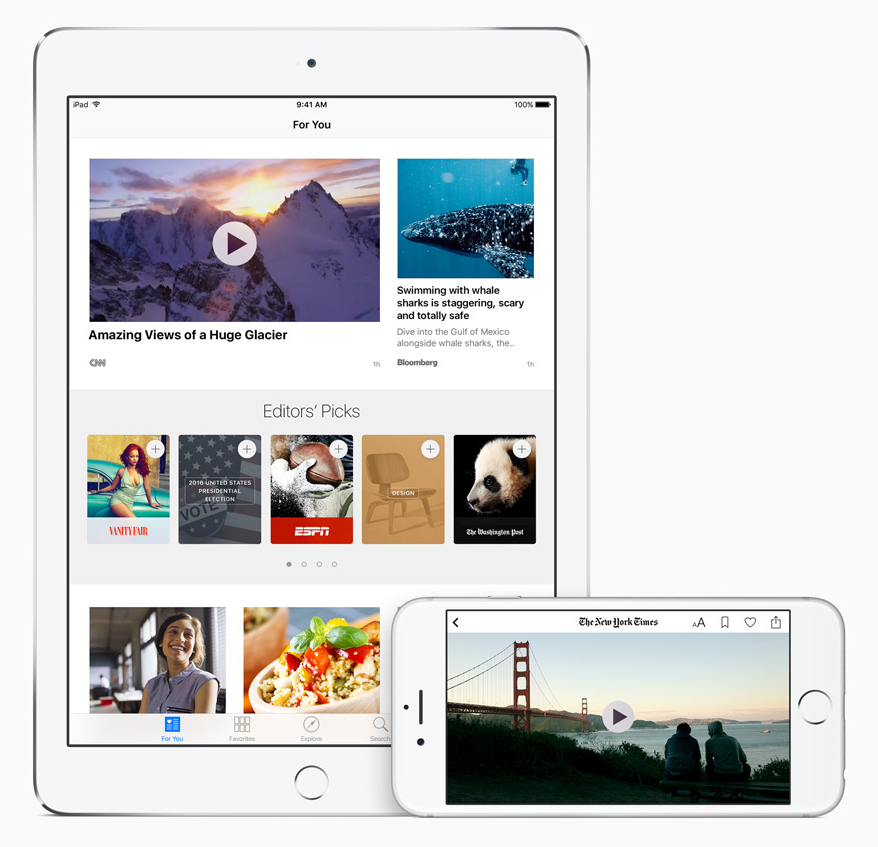 The News app for iOS is now more personalized. Apple specifically said that the "For You" section of the app better tailors your interests. "For You" also suggests trending topics and Editors' Picks to help you discover new Favorites.
And now videos that are contained within a story can be played right from the feed. Another change implemented in iOS 9.3 is that the News app can be viewed in landscape mode on the iPhone now. Lastly, the News app has been optimized so the stories appear faster.
4.) Health App Now Has More Data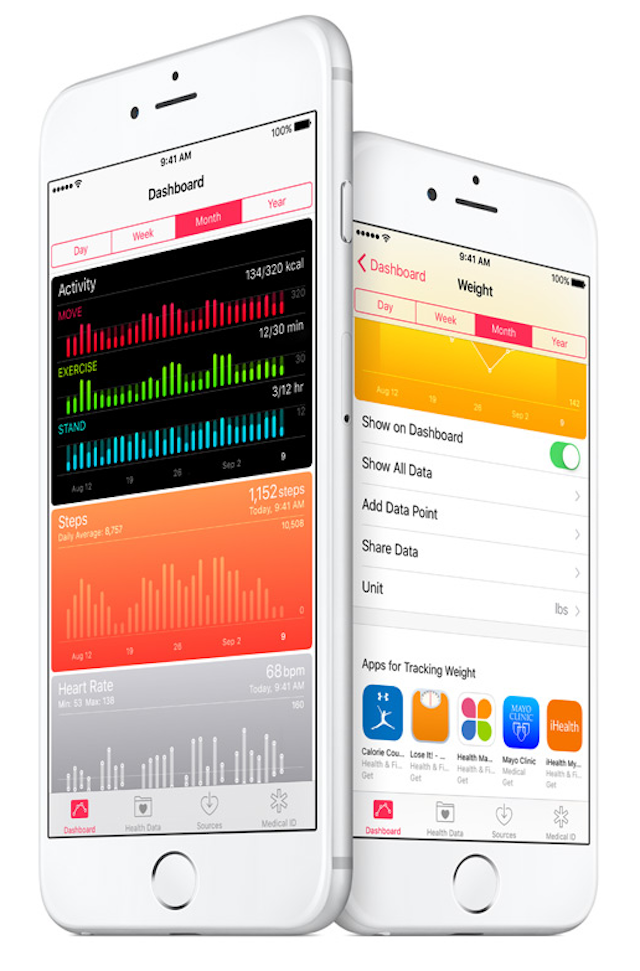 The Health app now has a new slider menu for categories like Weight, Workouts and Sleep that reveals apps which can be added to the Health dashboard. Goals can now be displayed from the Apple Watch.
And there is move, exercise and stand data displayed within the Health app now too. By providing all of the health metrics in one place, the iOS 9.3 update is very beneficial for the Health app users.
5.) New Apple Music Options For CarPlay​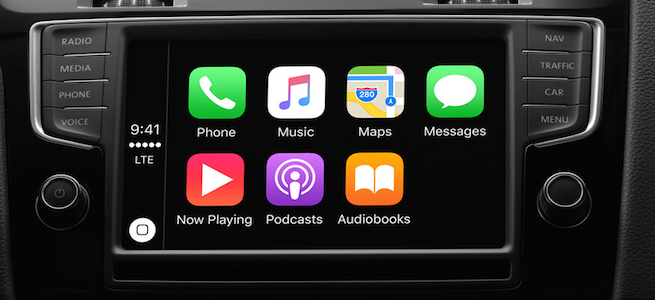 iOS 9.3 offers new features for Apple CarPlay. The "For You" option in Apple Music for CarPlay now include songs, artists and albums picked by curators and content based on your preferences, which will be displayed on the CarPlay screen. There is also a Nearby feature in Maps for CarPlay that lets you find gas, parking, restaurants, coffee shops and more points of interest with a simple tap.
6.) Apple Education Update
Apple said the best classroom experience is about to get better through iOS in Education — which is integrated within iOS 9.3. Features built into iOS in Education include Shared iPad for students, a new Classroom app, Apple School Manager and Managed Apple IDs.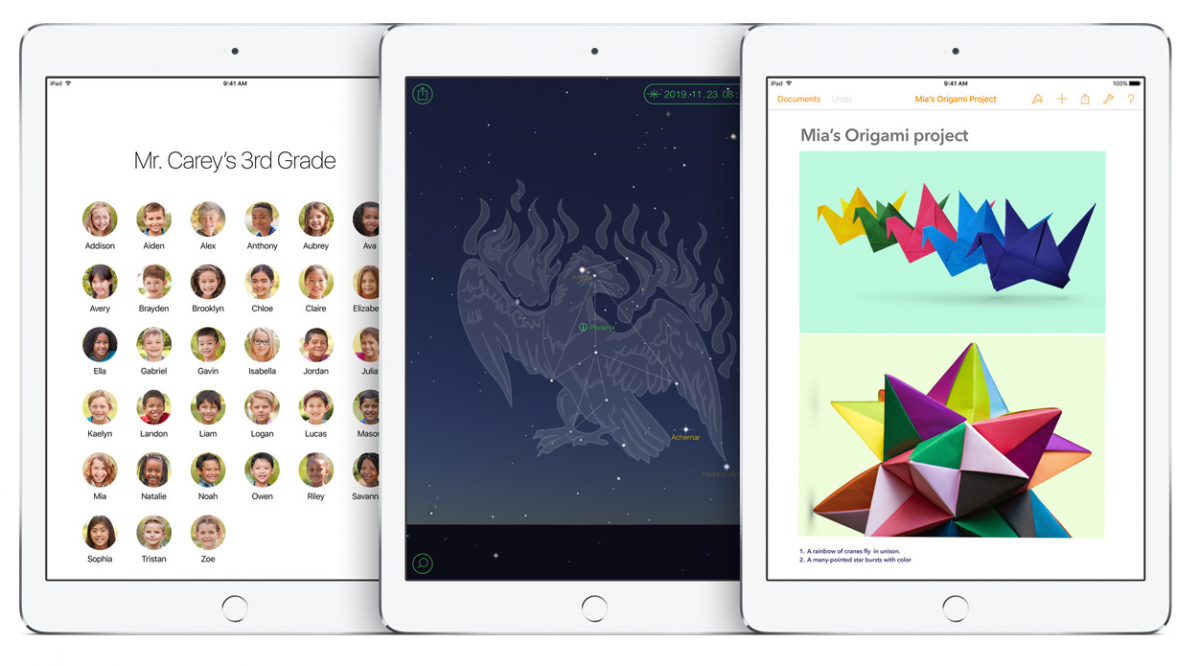 The Shared iPad feature for students lets users log in to any iPad in any classroom to make it like their own by providing access to their apps, iBooks and documents. You will notice that each of the students have a Photo ID showing the picture of the students when they are logged in.
Lessons in iOS in Education are speedy because of intelligent caching, meaning students do not have to wait for items to download when using the same assigned iPad in a class each day. Students will be able to use Shared iPads by logging after entering a four-digit PIN on the lock screen.
Classroom App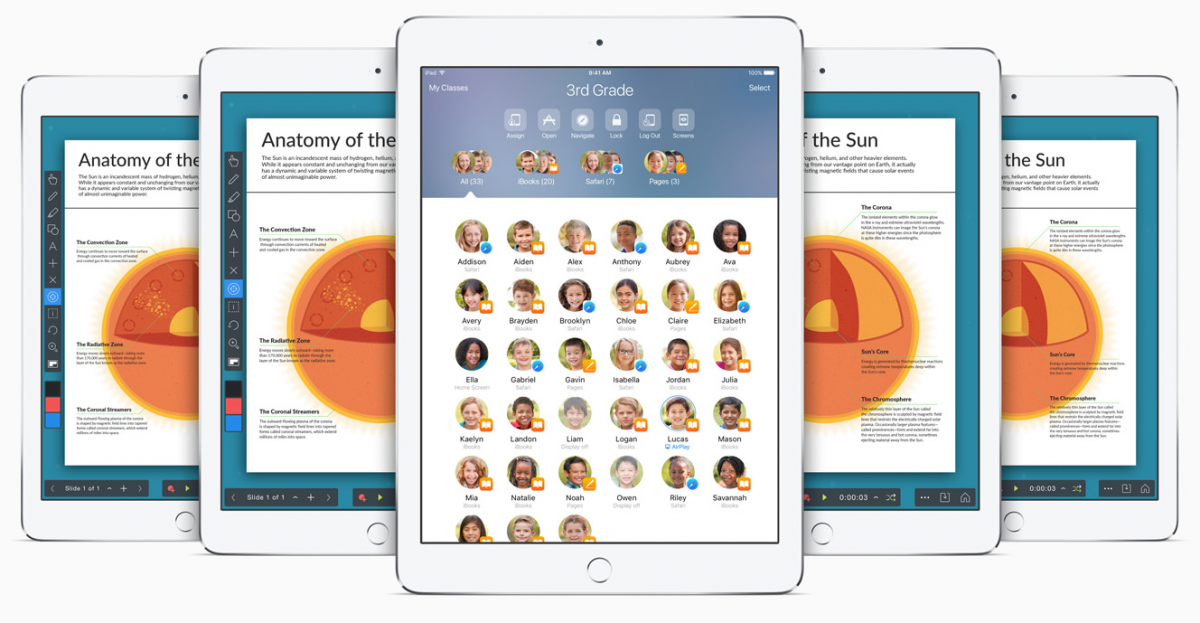 The new Classroom app helps teachers guide students through lessons and see their progress. Teachers using the Classroom app can launch apps, websites or pages at the same time using the Remote Control feature.
The Classroom app lets teachers see what their students are seeing using the Screen View feature. If a student cannot remember their password, the teacher can reset it using the Classroom app.
Apple School Manager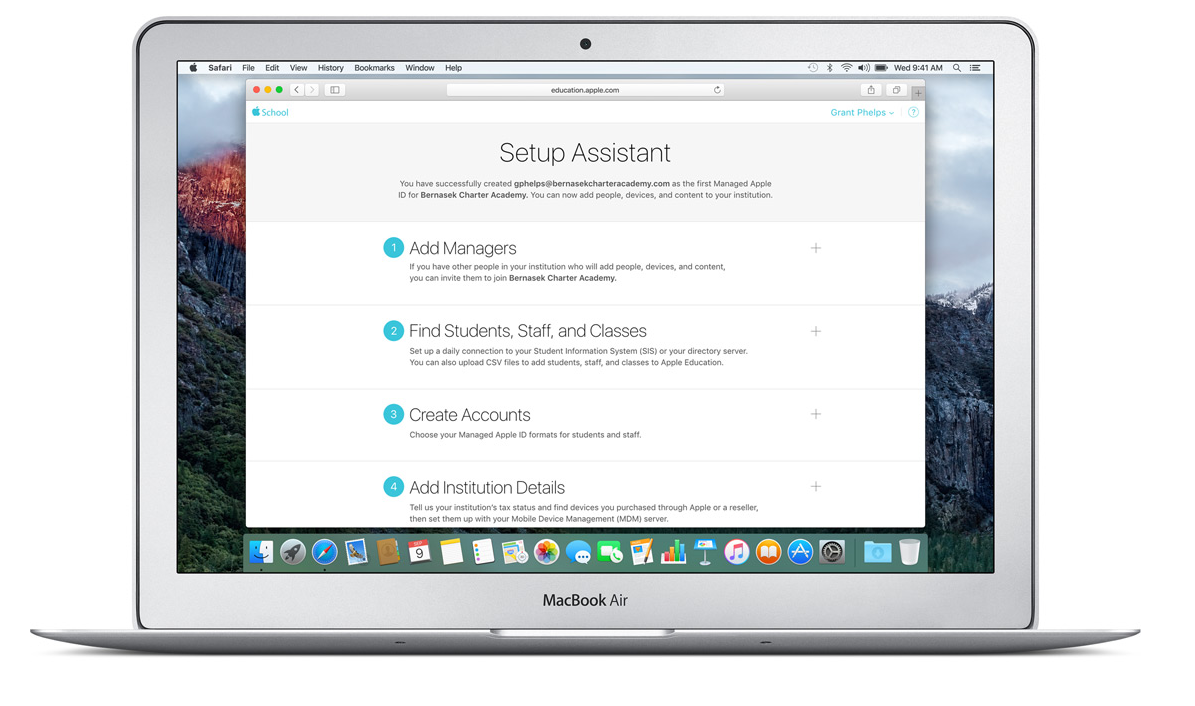 Apple School Manager is a central place to create Apple IDs and courses. Apple School Manager also lets teachers access key enrollment information for their districts and connects to their Student Information Systems (SIS). Mobile Device Management (MDM) servers can be managed from the Apple School Manager.
And apps and books purchased through the Apple School Manager automatically receives educational discounts.
Managed Apple IDs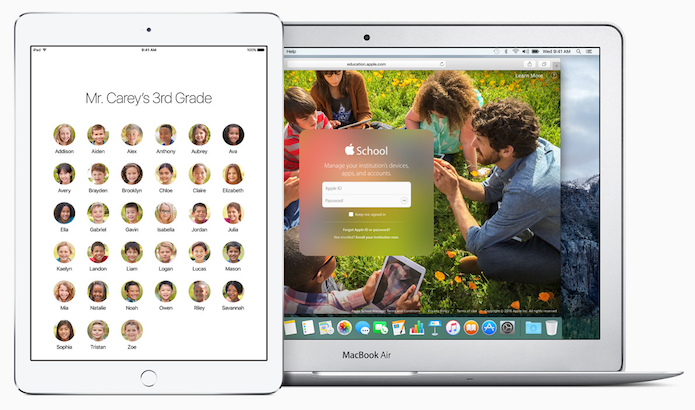 Managed Apple IDs have been created for schools so administrators can easily reset passwords, audit accounts, create IDs in bulk and set up customized roles for people in the district. Managed Apple IDs also lets users store documents in iCloud, enroll in iTunes U courses, etc.
7.) Quick Actions For 3D Touch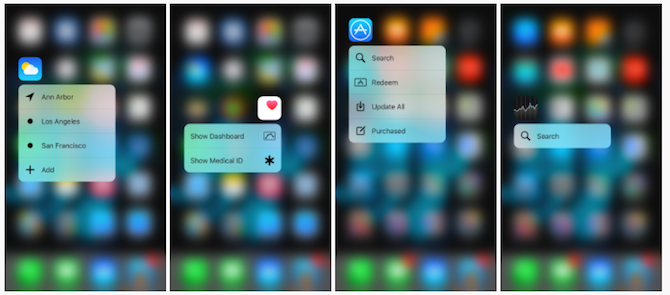 Apple has added new 3D Touch shortcuts for the following apps: Weather, Settings, Compass, Health, iTunes and App Store. The weather app 3D Touch shortcuts include Quick Actions for cities that you have added to your locations. The Health app has shortcuts for showing the dashboard and medical ID. The iTunes and the App Store apps now have "Update All" and "Purchased" shortcuts. Settings now has shortcuts for setting the wallpaper, checking the battery and controlling Wi-Fi and Bluetooth. And the Compass app has shortcuts for starting the leveler and the compass.
Other Noteworthy Features:
Fix For January 1, 1970 Bug
On February 23rd, the fourth beta of iOS 9.3 revealed that Apple fixed a bug that caused iPhone and iPad devices to be disabled if the date was set to January 1, 1970. This bug caused the device to become stuck in a continuous reboot loop. The fix prevents the date on iPhones and iPads from being set beyond December 31, 2000 at 7PM E.T. (also known as 01/01/01 at 12AM GMT), according toMacRumors.
Fix For iMessage Encryption Bug
Today The Washington Post reported that researchers at John Hopkins University found an iOS bug that allowed them to break into encrypted iMessages, thus allowing them to decode photos and videos. However, that bug requires the data to be in transit rather than stored. That bug should be fixed in iOS 9.3
Wi-Fi Calling For Verizon
Apple iOS 9.3 beta 3 revealed that the final version of iOS 9.3 would include Verizon Wi-Fi Calling. Wi-Fi Calling will allow Verizon users to talk and send text messages over a Wi-Fi connection if their cellular service is weak or not available in certain areas.
PDF Syncing
iOS 9.3 syncs iBooks to iCloud so that PDFs can be read between iOS devices and Macs. This means your important documents can be automatically kept up-to-date between all of your Apple devices.
Multiple Apple Watch Support
iOS 9.3 now lets you connect multiple Apple Watches to the same iPhone. The benefit of this feature is that developers can test apps across different versions of Watch OS. This feature requires Apple Watch OS 2.2 and above.
Photo Duplication
When you edit a Live Photo in iOS 9.2, the animation and sound is lost. But iOS 9.3 lets you make duplicates of photos using the share menu of the Photos app. You can tap on "Duplicate" or "Duplicate as a Still Photo" using iOS 9.3. This feature is also applicable for non-Live Photos and Videos.
Mobile Device Management (MDM) For Homescreen Layouts And App Controls
There is a feature included in iOS 9.3 that will let administrators at companies lock the layout of the home screen belonging to employee iPhones so that apps cannot be moved around. The layout lock requires OS X Server, Profile Manager and supervision configured on a device, according to an iOS developer named Steve Troughton-Smith via [AppleInsider]. Organizations can also hide apps, blacklist apps and whitelist apps. And administrators will be able to enforce notification settings.
You can update your iOS device to iOS 9.3 by going to Settings > General > Software Update. Or you can install the update by connecting your device to iTunes.
Article Source: Apple iOS 9.3 Now Available: Here Are 7 Amazing Features It Has