The New iPad vs. 9.7-inch iPad Pro and iPad Air 2
Published on March 27 2017
Apple yesterday announced the newest addition to its iPad lineup, somewhat confusingly called the "iPad" and known officially as the "5th-generation iPad," following in the footsteps of the fourth-generation model that was released before the iPad Air.

Designed to replace the iPad Air, the iPad comes with a tantalizingly low price tag: $329. It is Apple's most affordable tablet to date and it's a competitive price point that will allow the iPad to better compete with lower-priced Android offerings.

What do you get for $329? As it turns out, quite a lot. The iPad is a little bit iPhone 6s, a little bit iPad Air, and a little bit iPad Air 2.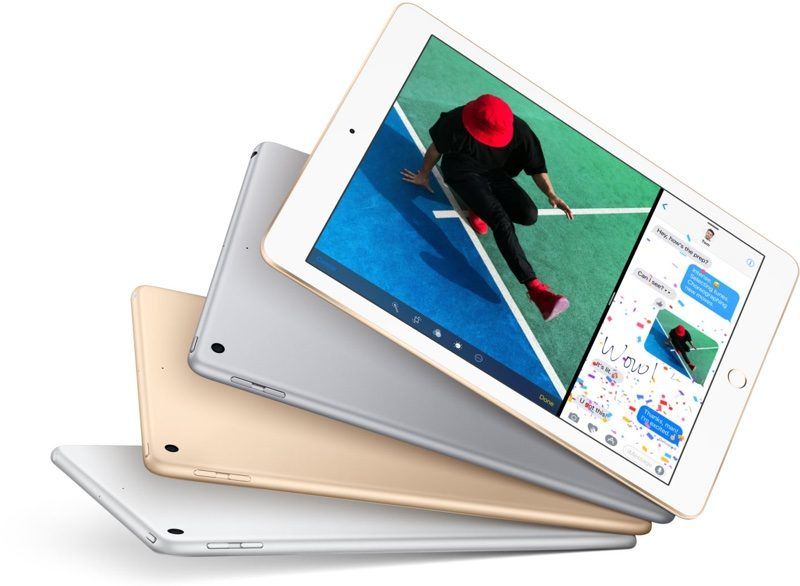 In a nutshell, compared to the iPad Air 2, the iPad has a brighter display and a faster A9 processor (first introduced in the iPhone 6s). Other internal hardware seems to be very similar to what's included in the iPad Air 2, with the exception of the display and the casing. Camera, battery life, Wi-Fi, LTE, and other sensors are all nearly the same.

The iPad does not include a laminated display, and is thus thicker, much like the original iPad Air. It measures in at 7.5mm thick, compared to the 6.1mm iPad Air 2. The thickness and accompanying weight discrepancy is noticeable and the one downside between the new iPad and its predecessor.

Compared to the 9.7-inch iPad Pro, the new iPad is, of course, significantly inferior, which is why it's priced at $329 and not $599. It does not support the Apple Pencil or the Smart Keyboard (no Smart Connector), and it lacks many of the display improvements, including True Tone color shifting and wide color gamut.

The iPad has a slower processor than the iPad Pro, an inferior camera (8-megapixel vs. 12-megapixel rear and 1.2-megapixel vs. 5-megapixel front), two speakers instead of four, a slower LTE modem, and of course, since the 9.7-inch iPad Pro is the same size as the iPad Air 2, the iPad is noticeably thicker and heavier.

If you're looking for top of the line hardware and accessory support, the 9.7-inch iPad Pro is the tablet to buy, but if you don't need the bells and whistles, the iPad is a steal at its price point.

Performance wise, it's going to run all the latest games and apps, it'll take decent pictures, it still has a high-quality Retina display, and it features a 10 hour battery life, so it will hold up for several years, especially when doing basic tasks like web browsing and emailing.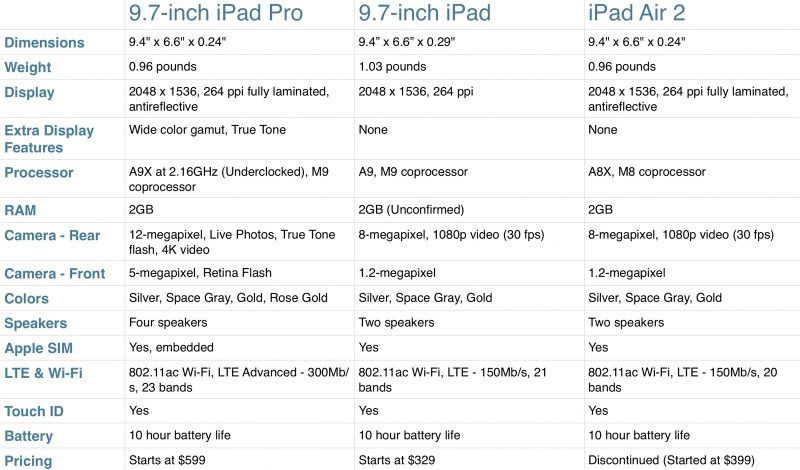 For those looking for a bit more, Apple is rumored to be planning to introduce an updated ~10-inch iPad Pro model that's going to replace the existing 9.7-inch iPad Pro. The ~10-inch model is said to have smaller bezels and perhaps an edge-to-edge display, allowing it to feature a bigger screen in a 9.7-inch-sized body.

That tablet was originally rumored to be coming in the spring, but now it's looking like we won't see it until later in the year. Based on rumors, it may be worth the wait for those willing to shell out more money for the best technology.

Apple plans to start selling the new iPad on Friday, March 24. The entry-level 32GB Wi-Fi only model will be priced at $329, and a 128GB model is available for $429. Wi-Fi + Cellular models are available at a $130 premium, so $459 for 32GB and $559 for 128GB
Article Source: The New iPad vs. 9.7-inch iPad Pro and iPad Air 2