2017 Apple iPad, iPad Pro: Specs, Release Date -- Rumor, Analyst Roundup
Published on March 20 2017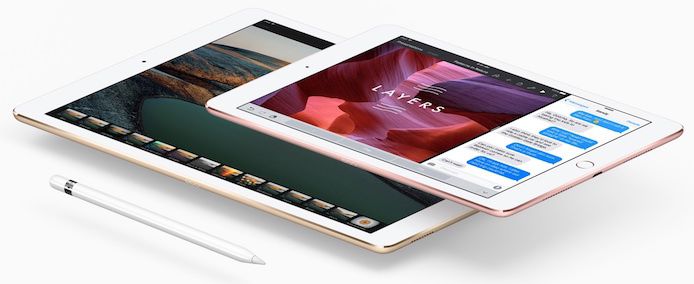 A new iPad Pro is expected soon. Here's what we could see based on input from an IHS Markit analyst as well as reports.
10.5-inch iPad Pro: Expect to see a new iPad Pro design with a 10.5-inch display, Rhoda Alexander, Director Tablets and PCs, at IHS Markit, told me in a phone interview last month. The 10.5-inch iPad is expected to stay the same size as the 9.7-inch iPad Pro because of a smaller bezel, according to Alexander.
"You end up with a unit that's the same physical size as the 9.7 inch," Alexander said. That means accessories like the Smart Keyboard can be used with the 10.5-inch iPad Pro.
The display resolution will also increase, according to Alexander, to 2,224-by-1,668 from the current 2,048-by-1,536. That would maintain the same PPI or pixels per inch.
The aspect ratio (the ratio of the width to the height of the screen) would also likely change, according to Raymond Soneira, a display expert and president of DisplayMate Technologies. That would allow Apple keep the same outside dimensions, despite the smaller bezel.
A report about a new iPad Pro first appeared last year from KGI Securities analyst Ming-Chi Kuo.
Low-cost iPad: A new "value" 9.7-inch iPad may be priced as low as $299, according to Alexander. That would come in under the current iPad Air 2 that starts at $399.
Pricing on the new 10.5-inch iPad Pro is less clear. The current 9.7-inch iPad Pro starts at $599. Apple could lower the price on that model, pushing it down to $499 and then inserting the 10.5-inch iPad into the $599 slot, as one possibility.
It's not clear what will happen with 7.9-inch iPad Mini, though some reports claim an update is coming. Other reports also say that the 12.9-inch iPad Pro will get updated.
Timing/Event: MacRumors reported this past week that Apple is "most likely" to launch new products between March 20 and 24. But other reports point to April. If April, then invitations to an event could come later. There's also a chance that Apple would announce via a press release but that seems less likely if a redesign is in order.
Market contraction: "Apple's...hold on the tablet market is yet to be challenged although the company is not immune to overall market challenges," said market researcher IDC in its latest research note, released in February. Like most tablet suppliers, Apple saw year-to-year shipments decline in the fourth quarter.
"The iPad Pro lineup made up only a small portion of overall shipments as the iPad Air 2 and Mini tablets continued to account for the majority of the shipments for Apple," IDC said.
Apple did not respond to a request for comment.
Article Source: 2017 Apple iPad, iPad Pro: Specs, Release Date -- Rumor, A